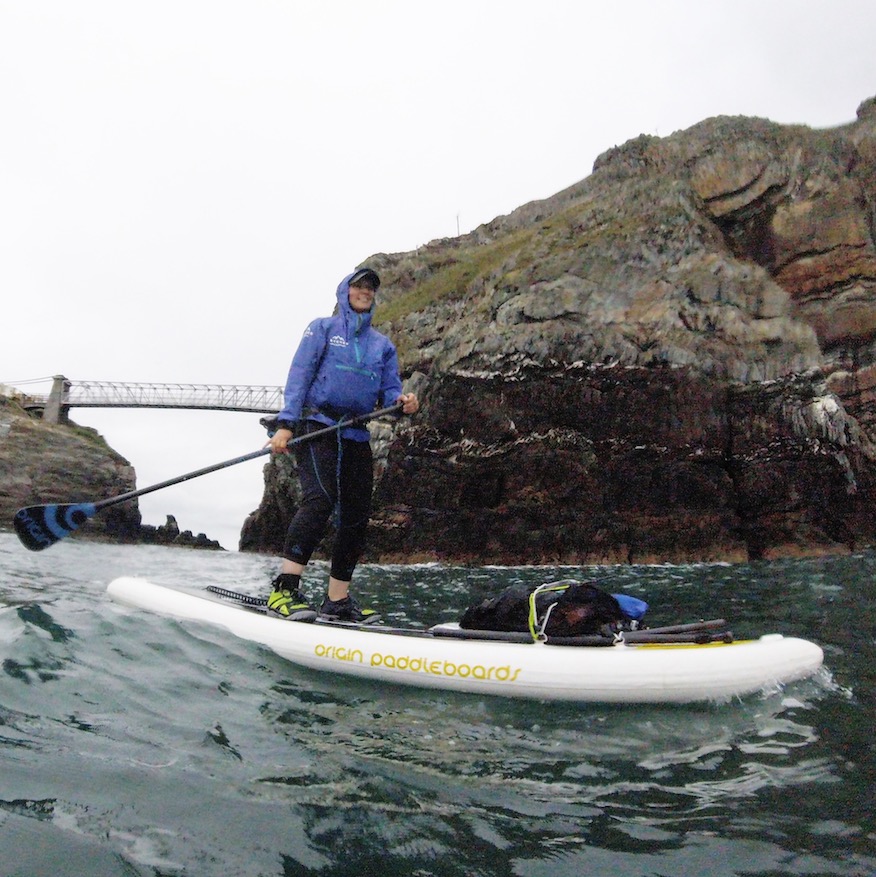 Setting yourself a SUP challenges is a great way to explore, see some amazing sights from your SUP, and push your paddling that little bit further. One day, one week, summer or winter… it doesn't matter when. You can do a SUP challenge anytime, you just need to do some planning, be prepared and be up for the challenge! 
Sian Sykes from Psyched Paddleboarding recently set herself the challenge to be the first person to circumnavigate Anglesey, North Wales on a SUP. Having successfully completed numerous SUP challenges and aware of the importance of preparation, Sian explains why she loves SUP challenges and offers some tips on how best to ensure it's a successful and safe experience for all involved…
I have a real thirst for challenges. I love the true/immense sense of adventure and to feel like a pioneer on my SUP and to be able to push myself mentally and physically. I love nothing more than being outside, experiencing wilderness, embracing it's elements, being close to nature and to take time out from the hectic pace of life.
I enjoy journeying on lakes, canals and on the sea. That's what SUP is all about, the freedom to take your board and explore. It's such excitement to plan, do and complete a SUP challenge. You gain a great sense of achievement and satisfaction when all your hard work with planning, training, skill and ability all come together and you complete a challenge.
But there are numerous things to consider before embarking on a challenge. Here are some of my top tips from my experience with SUP challenges so far…
Base the challenge on your ability, not solely around your enthusiasm!
When thinking of what type of challenge to do on a SUP, you need firstly to base it around your level of ability, to allow you to be fully prepared and to set yourself with the best possible chance to complete your challenge. Certainly enthusiasm does help, but your ability will guide you through the challenge to minimise any potential 'epics'. When embarking on your challenge, not only do you need to consider yourself, but any impact you might have on others, for example the RNLI, your support crew and the general public.
Planning is key
One of the key elements when developing your challenge is to invest time with planning and preparing. e.g study maps, tides and forecast. Understand fully your planned route, launching and exit points. Have the challenge fully mapped out with also contingency plans built into it, so if plan A isn't working, use Plan B. I would also recommend to tap into local knowledge and do your research of the area where you are doing your challenge. Speak to the RNLI, the coastguard, the Waterways and other paddlers for valuable intel on any known hazards. e.g if you need permission or to pay launching fees for your SUP. Think about what kit you are going to take. Going light is key but having essential safety kit is crucial. Factor into your planning the logistics. Consider if you have to use public transport, or do any portages, or shuttle runs with vehicles, and how are you going to carry the kit? Once it's all mapped out, laminate your plans, with tide, weather forecast and maps, and also have spares just in case. For my challenges, I use a semi permenant pen and mark on laminates my progress, wind direction, tidal info etc all onto one sheet – it's my crib sheet for my journey.
Don't solely rely on technology
I see a lot of people heavily reliant on their electronic devices for navigating. Have a back up for if it runs out of battery, gets lost or damaged. Sometimes you need to be old school and have a map and compass, and of course, know how to use it! Personally I save battery power for my mobile phone and use it purely in an emergency and for getting weather updates.
Think about communication
Think how are you going communicate and where to keep it whilst on your SUP challenge. It's no use to you if it's all in a dry bag on your board. It needs to be on you, so if for example you do get separated from your board you can communicate. For my challenges I use mobile phone, VHF radio and a 2 way radio which are on lanyards attached to myself.
Set yourself smaller challenges to fine tune your challenge
This is a great opportunity to pull everything together for a test run and to iron out any creases prior to the big SUP challenge. I would suggest try harder things in an easier and safer environment such as running through a number of scenarios, e.g being trapped with your leash, repairing your board whilst being on the water, accessing a flare. You need to be in a position you are slick and confident, so if an incident does happen on your challenge you are prepared and you have the appropriate kit to support. You need to know how your kit works, don't be that person who 'has all the gear but no idea how to use it." Thoroughly test it and feel confident, so that in an emergency you will not panic. I also recommend to have a system in place with your kit to minimise what I call 'faff time.' You want to minimise 'faff' time as it just eats away into your challenge.
About Sian and her SUP challenges
I set myself a challenge to be the first person to circumnavigate Anglesey, North Wales on a paddleboard. A 120km journey around the fascinating and rugged coastline. I did it to raise money for The North Wales Wildlife Trust and Surfers Against Sewage. My Nain (grandmother in Welsh) loved wildlife, taking photographs and actively involving herself with the Wildlife Trust in North Wales, so I'm continuing her legacy. I'm also a supporter of Surfers Against Sewage as they raise awareness about water pollution.
Secondly, I did this because I wanted a challenge and to see if I could do it! Anglesey has a complex and challenging coastline and it's all in the planning and strategy to get it right. I hatched the plan after completing the 3 Lakes Challenge. I was the first person to SUP solo, unsupported of the three lakes in Wales, England and Scotland and I loved the challenge and adventure. That's when I came up with the idea to SUP round the whole of Anglesey where I live. I also joined a team to SUP across England and joined them Bristol to Reading, my first SUP challenge!
Videos from Sian's SUP challenges:


To find out more about Sian Sykes and her SUP adventures check out:
www.psychedpaddleboarding.com
sian@psychedpaddleboarding.com
01248 440 831 | 07928 475 419
Facebook – Psyched Paddleboarding
Sian is a fully qualified outdoor instructor based in North Wales and runs her own business Psyched Paddleboarding. Sian's mission is to inspire others to SUP and to offer a high quality and truly memorable stand up paddle boarding adventure either by hiking to a tranquil wilderness lake or exploring stunning coastlines. Sian is a brand ambassador for Aquapac and Peak UK.