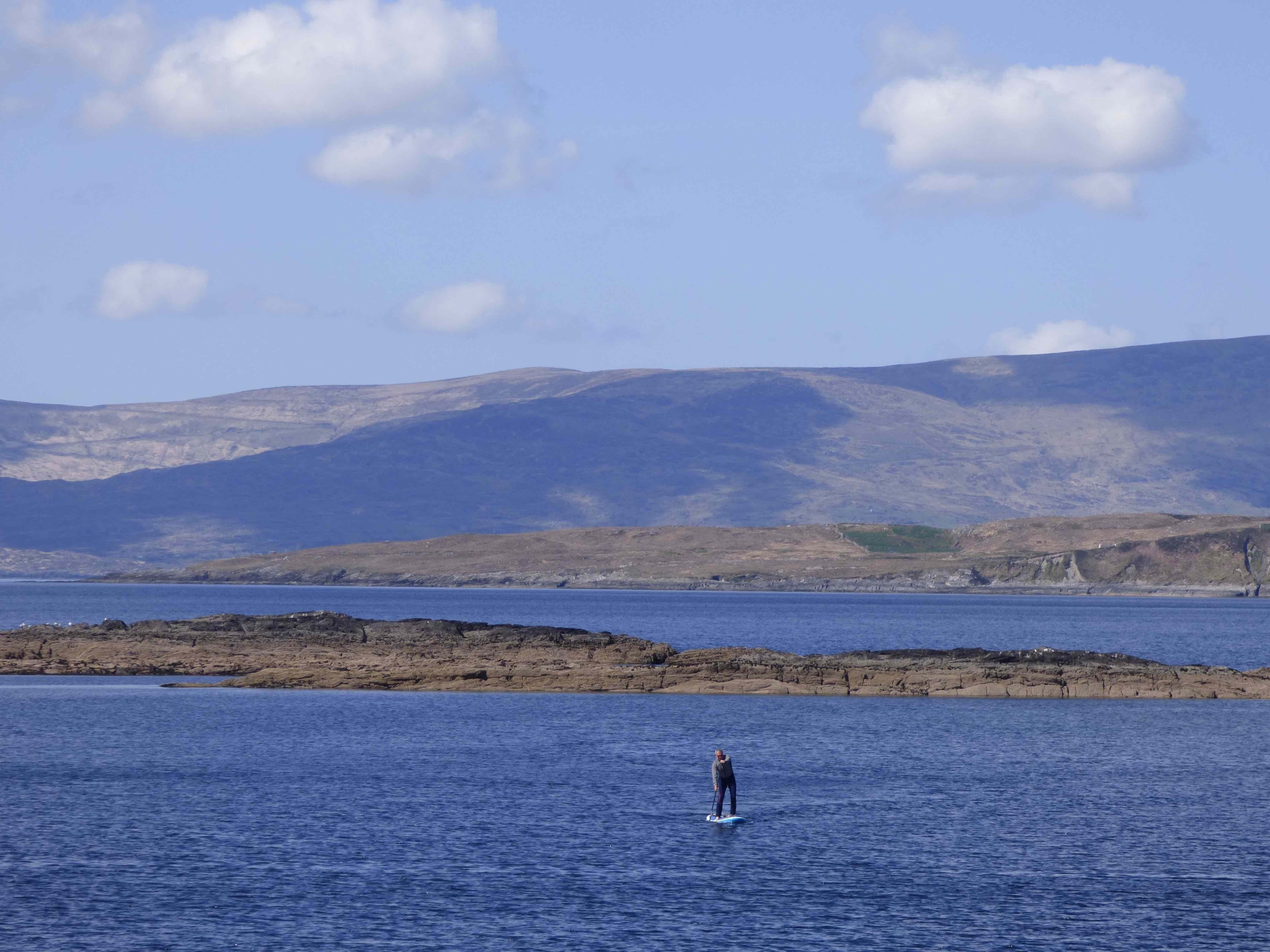 The west coast of Ireland is famous for many things – welcoming people, the craic in the local pubs and a very friendly dolphin. But it's not so well known for SUP, as Chris from SUPboarder found out when he had the opportunity to travel there recently with his daughter and 2 iSUPs. Chris explains what's there and why Ireland's west coast is the perfect place to explore by SUP…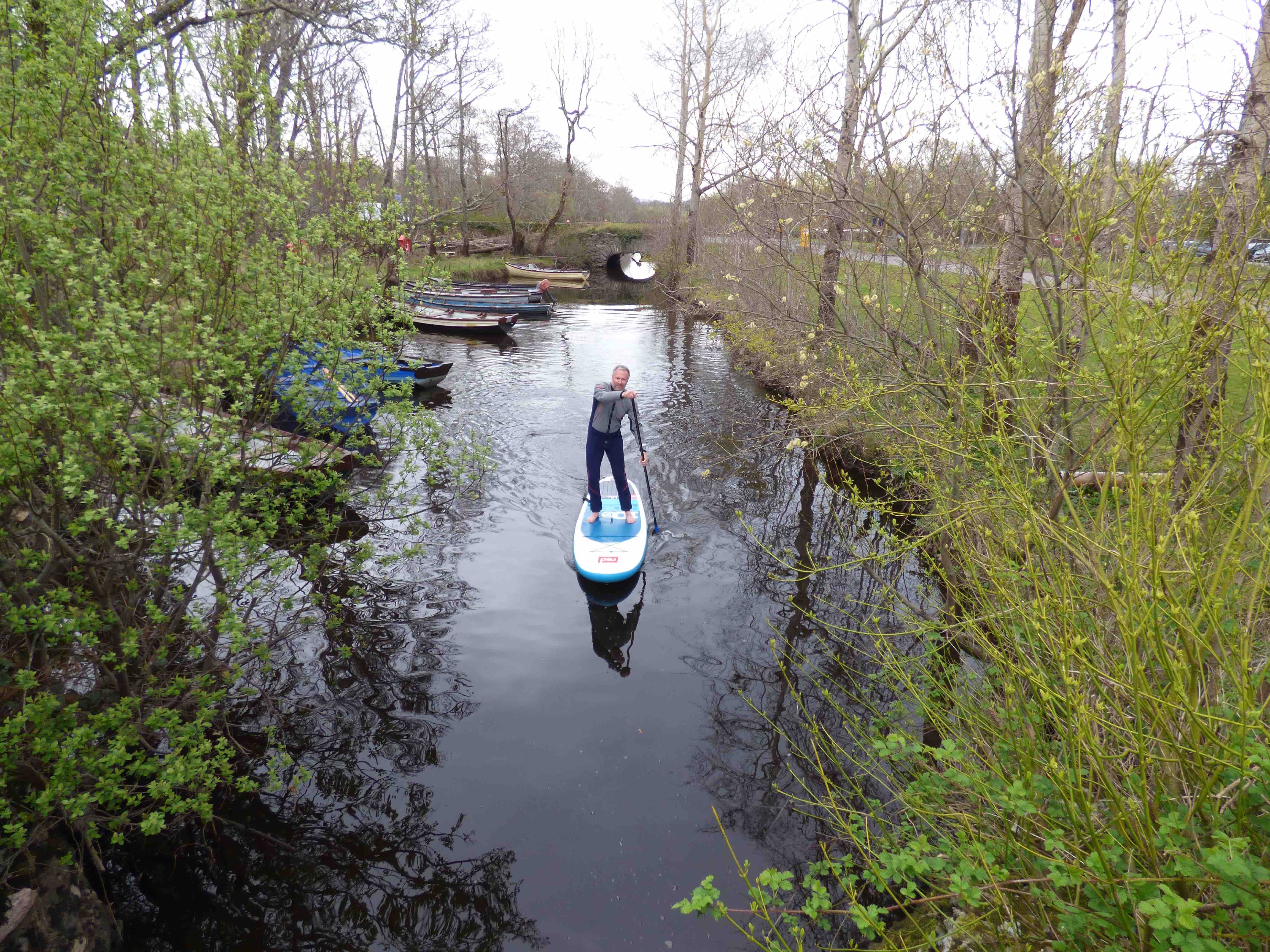 Sometimes it's best to put a board in the van on the off chance that you'll find somewhere to paddle. And so when packing for a week long trip to Ireland with my daughter to catch up with family I put two inflatables in hoping that there would be somewhere to paddle and optimistically hoping for good weather when we got there. We got lucky with both – locations and sunshine!
First stop was Killarney, and with dozens of lakes to choose from we were sure to find somewhere to get wet We got lucky first time, on Lough Leane near Ross Castle, with stunning views all around and glassy smooth, albeit cold water. There was easy access to the lake from a slipway near the main car park and, in April at least, very few other craft on the water. A great start to the paddling part of our trip that wetted our appetites and had us vowing to come back and explore properly. With enormous paddling potential the lakes of Kerry could take weeks to explore properly.
After a detour for whale and dolphin watching at Dingle our next stop was the Ring of Kerry, a popular drive for tourists in the summer and in mid April a simply stunning place to be. With countless small bays and inlets all around the peninsula we were spoilt for choice. First was to find a campsite and as luck would have it we found one with a slipway, a private beach and a spot overlooking the Atlantic. Perfect. Up early for a paddle around the bay amazed at how clear the water was, crystal-clear doesn't do it justice. Visibility below was as near unlimited as I've experienced, forests of kelp teeming with wildlife; fish, crabs and the occasional sea urchin passed under my board.
Keeping one board inflated and strapped to the roof of the van we were free to stop and get on the water in minutes wherever we saw a beach and a place to park. If anything there were too many spots to choose from – perfect sandy bays, rocky inlets, islands, estuaries. And everywhere the water clarity was amazing.
In the four days we had exploring and paddling we only saw one other stand up paddler, so it would be fair to say that SUP isn't big in Ireland, yet! With no obvious options to hire kit, particularly out of season, it's best to take your own. We took two Red Paddle Co inflatables which were perfect for exploring the rockier sections of coast and were easy to store in the van for the ferry crossings. During the summer there are seasonal SUP Schools which open up along the coast, and they may be able to help out with rental kit.
Out of season somewhere to stay was easy to find. We used campsites throughout our trip but for those needing a roof overhead everywhere had B&Bs and hotels with vacancy signs on display. However in high season I'm sure it would be advisable to book ahead. Outside of the main towns there is a refreshing lack of nightlife, the local pubs being the center of things in villages and with very little development along the coastline. Find one, get a pint and chill out.
Local tourist information offices are a brilliant source of information and the Irish Tourist Board have produced a series of free books and maps covering each of the regions. These offices are also the place to go to find out about any local SUP, Surf and Kayaking companies in the area.
We found access to the water was simple with a refreshing lack of signs telling us what not to do. Use some common sense, check conditions before you go, paddle within your limits and you should be fine. But always bear in mind that one of the attractions of paddling there, that feeling of remoteness, also means that help might not be around if you need it.
Getting there
We took the short ferry crossing from Fishguard to Rosslaire which at under 4 hours is a quick way to get to the east coast. Driving in Ireland is pretty much stress free out of season and the roads are quiet. If the ferry crossing doesn't work for you then flying from the UK and Europe is relatively easy with major airports in Cork and Shannon and a selection of low-cost airlines.
Ireland's west coast is an isolated, rugged and beautiful place to be. Everything runs at a slower pace, and true to the stereotype the people are warm and generous. The paddling opportunities are almost limitless, and therefore if the conditions aren't right in one bay drive to the next and check it out. Slow down, chill out and paddle.
Words – Chris Jones
Images – Sarah Jones