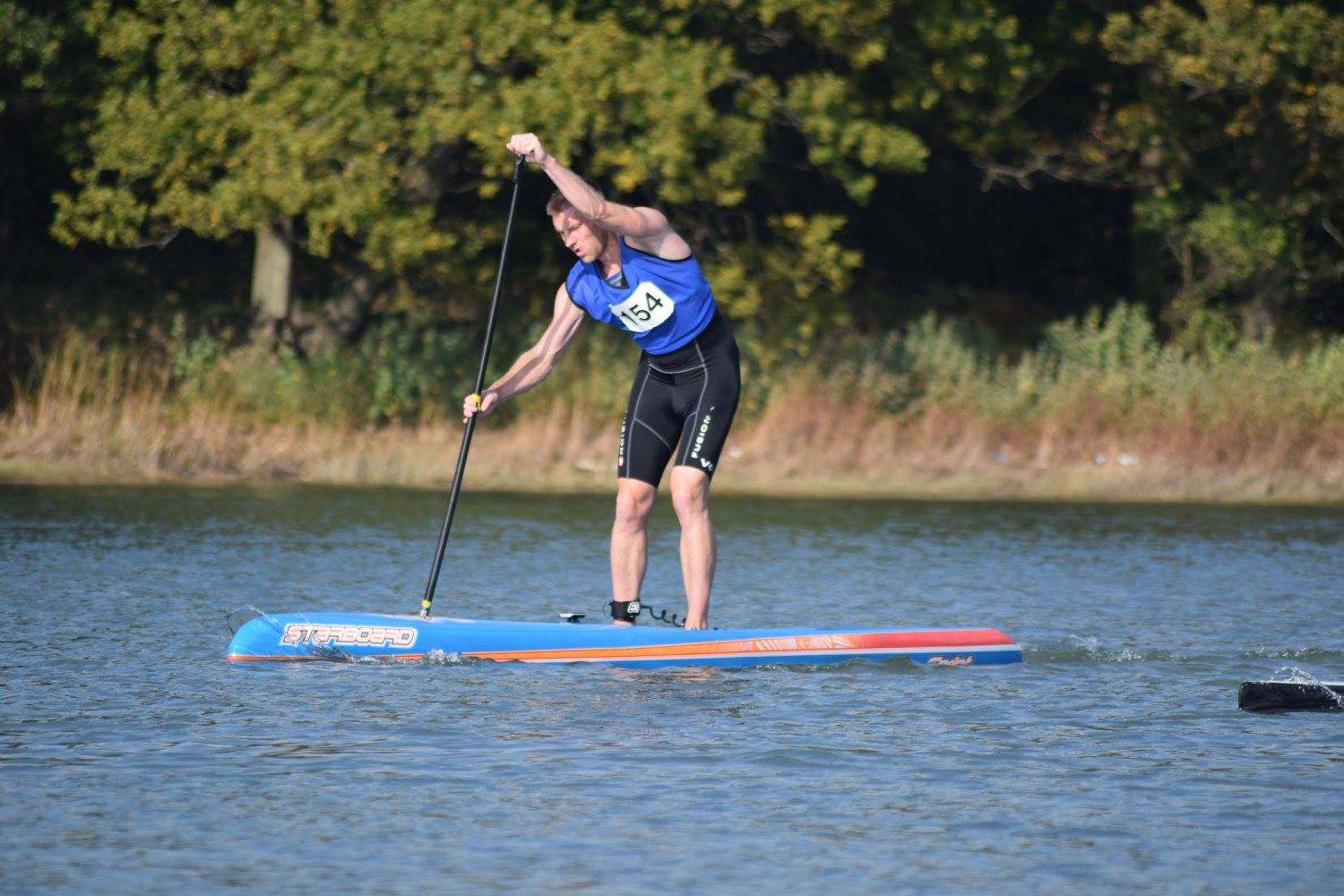 Dr Bryce Dyer is pretty handy on a bike as his national champions jersey shows. But in 2015 he fancied a new challenge and took the plunge with a year of SUP racing. This is how his rookie season went.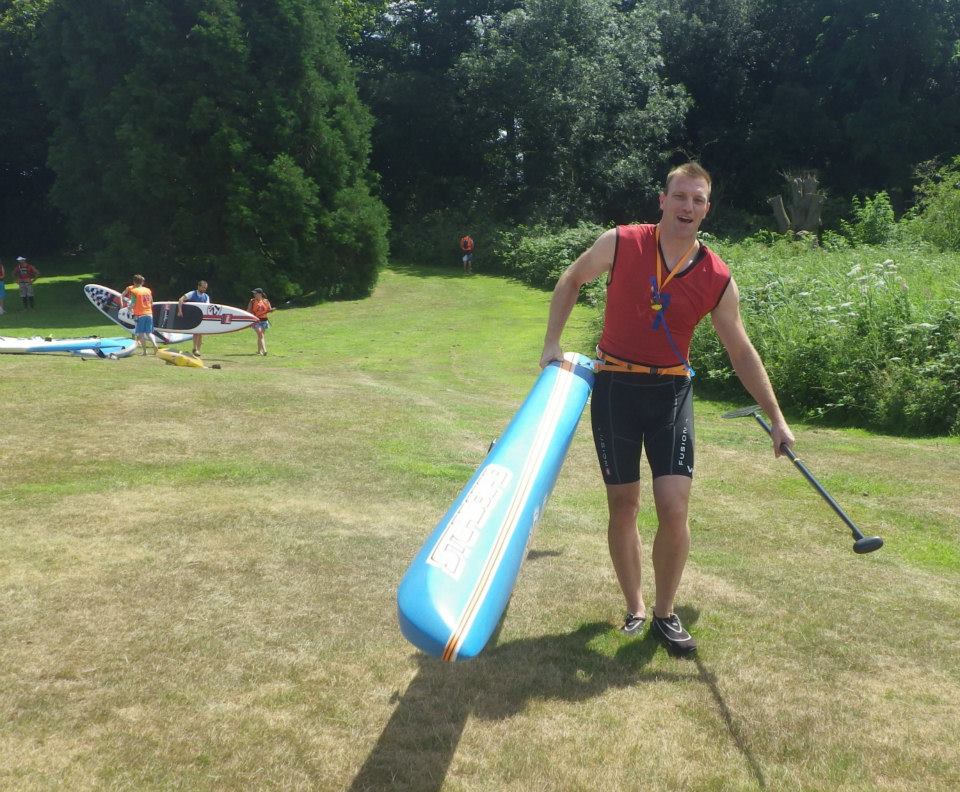 2015 was, for me, the year I had decided to sample the 'delights' of SUP racing. My aims were to dip my proverbial toe into the water, try a variety of racing distances and styles and see if I liked it. Whilst 'rookie' is a fair description, I'm no stranger to competitive sport in general and my entire season was actually built on a weekly diet of 12 hours of cycling per week (as that was my main sport) and a single 1 hour paddle (where I emphasised technique rather than any intensity). However, I had no goals other than to enjoy myself and find out what the sport was all about.
To kick off this experience, I first cut my teeth down at BaySUP's 6 race frostbite series. With many of the country's top paddlers all local to me, I knew I'd be on the receiving end of a pretty good hammering every race. As it was, the series was a great introduction to the sport. The races themselves alternated each month between a flatwater distance or a technical open water event so you got a pretty good SUP education as a racing novice . For me personally, I learnt very quickly the importance of getting a good start but also how costly technical mistakes such as poor buoy rounding could be. I learnt a lot by watching everyone else and finished the series 9th overall in the 14ft class.
The next step was to take it up a level and progress out onto the national series organised by UKSUPClubs. My aim was to learn as much as I could and complete enough races to get an overall ranking. I headed to the Nottingham leg first. I was a little overtly cautious here and was a little 'line shy' at the start. I'd also opted to use a wider board as I'd found the starts during the winter with everyone else incredibly difficult to manage on my narrower flatwater board. I had some good battles here but what struck me was the level of fatigue I had for a couple of days afterwards. In cycling I'm often fit enough that I can race and ride again later that day if I need to.
When I started SUP racing, I was left drooling on my sofa for two days. It is one hell of a workout.
Come my next event at the 'Battle of the Thames', I saw by far the most paddlers I would see all season. River racing was clearly a very popular destination for people.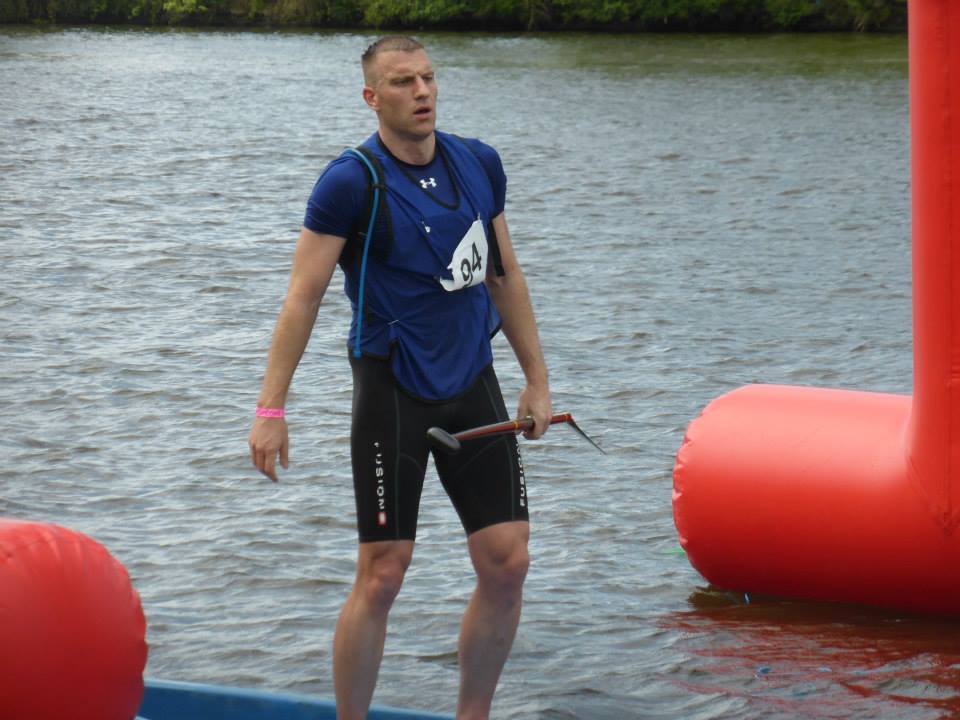 This time I'd reverted to my narrower board and this decision paid off as I took another minute or two out of the same paddlers I'd been battling head to head with a month prior. However, I balls'd up my start again by getting my clock mixed up and I was still a minute off the start line when the gun went. By the time I got there, everyone else had gone and I was left holding the baby in a washing machine of turbulence. It felt like a long race and I suffered all the way through it. In the end, I got knocked off by a rescue boats wake 300 yards from the finish line and that pretty much summed up my day really.
Next stop for me was the home BaySUP leg. That didn't go well either. This was a technical and open water affair. It was extremely rough and several of us were struggling to even get out. For someone with poor balance already, that one proved a bit beyond my ability at the time.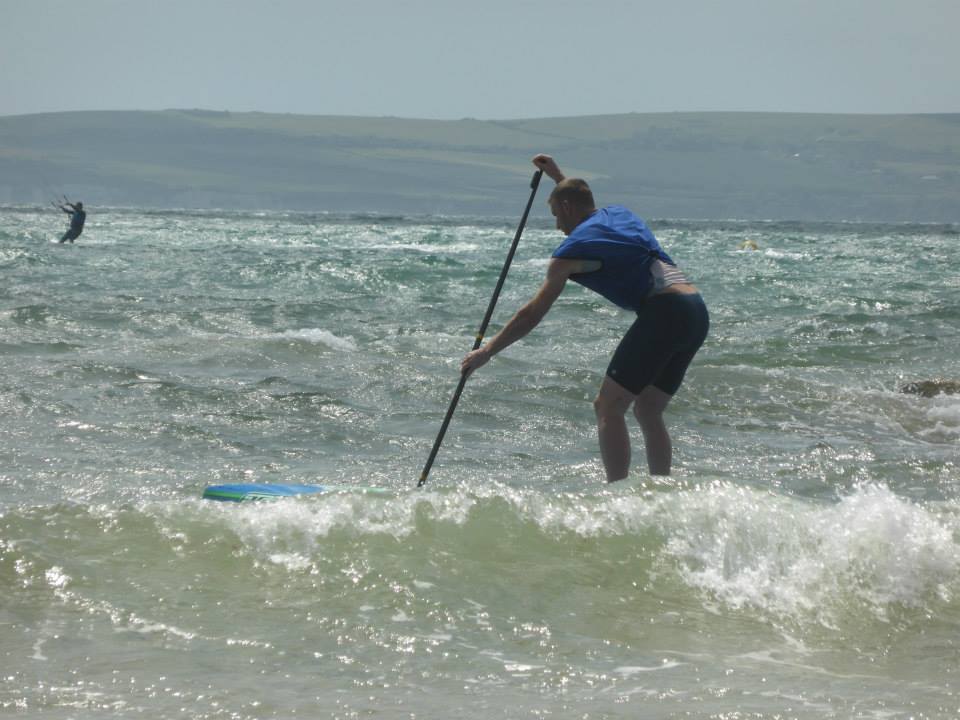 After this though, it was onto the Norfolk leg. I was looking forward to this one as the course was a straight point to point race. It was also likely to have a tailwind and I didn't expect it to be that choppy. At this race, I was on the verge of having an awesome start by performing a well-timed and rehearsed 'rolling start' (in the same way as back in my sailing days). However, just as I was about to give myself a congratulatory high five, another paddler fell off their board, stringing his leash across the nose of mine and I suffered the unwanted experience of someone else throwing my brakes on. However, once I got going, I really started to narrow the gaps down to those in front and the time trial nature of the event suited me down to the ground. My lack of SUP fitness became evident in the end but the limits of only paddling for an hour every week were bound to show themselves in a 2 hour race with me on my knees sooner or later. The race may well have been a long drive for most of us but it was a really good event.
By this point, we were well into summer and I wanted to try something a little different so I opted to head to the Naish 'N1sco' national SUP championships. If Norfolk was my best result so far, the Naish event ended up being the most fun I'd have. It attracted a huge field of 60+ which kept the racing tight, competitive and fun. The beach it was held on was packed with people, there were drones in the air recording the action and it had an awesome atmosphere. The events were very short sprints ranging from 2-15 minutes long which physically actually suited me more than the long distance hauls I'd tried upto that point. The event was based on obtaining an aggregate score accumulated across three short races. I made a good start in the 750m event with a 4th place. That result flattered my paddling ability though in that it relied on a sprint run through the surf and up the beach (and I'd been in the National Surf Lifesaving team for doing pretty much the same thing back in the 90's). Things were also going well in the short 200m sprints too. Sadly, I got shunted at the buoy in the final which sent me tumbling off the board. In a race that short, there was no time left to make it back to the sharp end. In the final longer distance race, I'd started to tire but the whole event saw me take 11th overall – only losing out a top 10 position based on countback. It was at this point I felt I was finally getting somewhere. However, that events real boon was that I felt it struck the right balance between fun, competitiveness and inclusivity so that anyone of any standard could feel involved.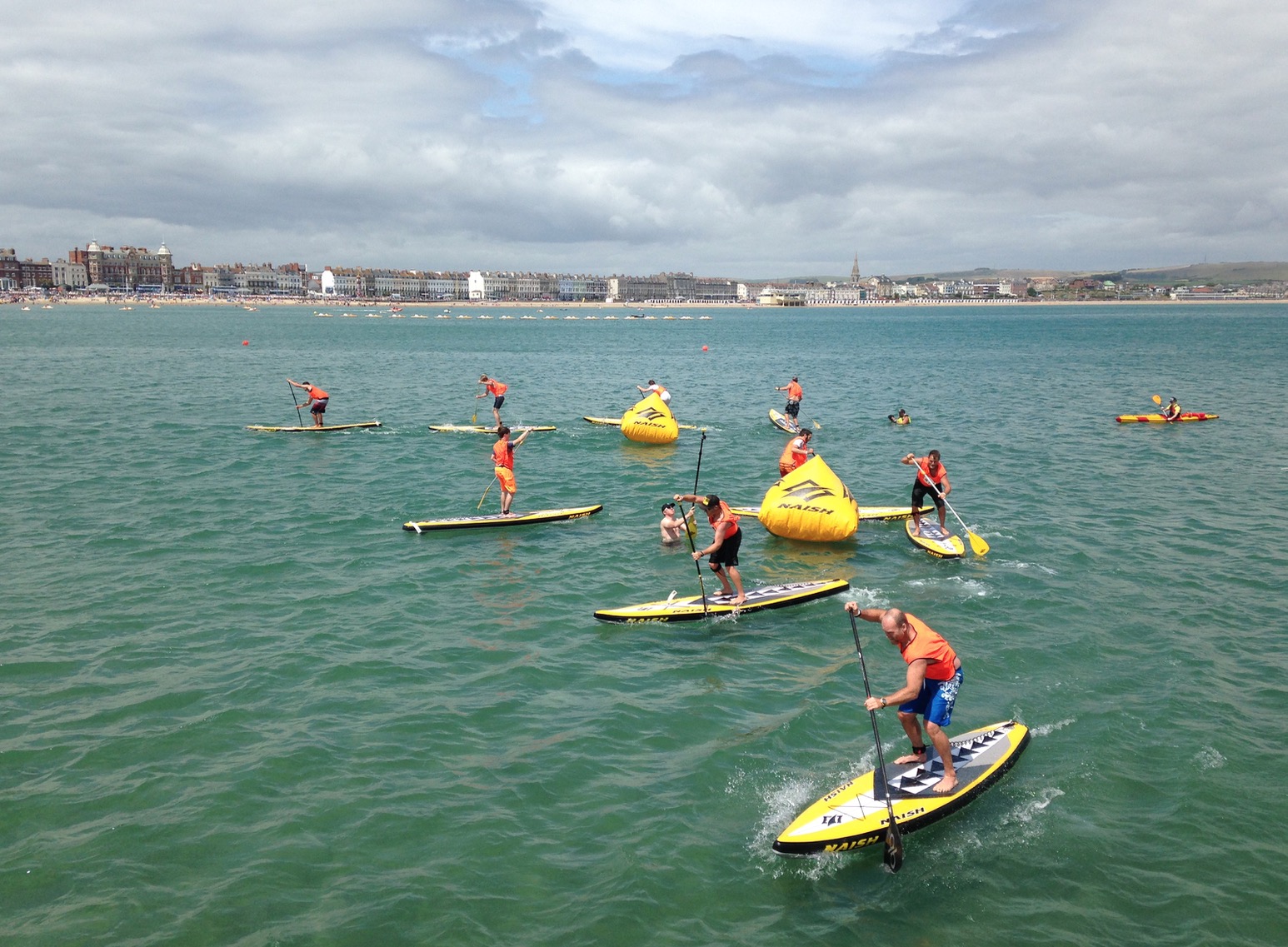 Next stop for me was back to the national series now over in Alton Water in Suffolk. To be honest, I was tapering down for a big cycling race taking place the week after this so I didn't want to work any harder than I absolutely had to. The 30 odd buoy turns we had though (and my equally poor turns I put in) saw me struggle here and probably have my worst race of the season. This all said, I grew up near there and it was great to return to a venue that I'd learnt to sail and race dinghies some 25 years before. If you're going to race technical races, buoy turn practise is a must.
That just left two SUP events left for me this season. The first was a return to the SUPbikerun triathlon down at Chicester in September. I'd had a mare at the inaugural event the year before, got lost repeatedly and finished 11th. This time I got it right, SUP'd 10% better than the year before, uncorked a strong bike leg and ultimately placed 3rd(narrowly missing 2nd). It was great to be back on the offensive.
The final stop for me was the UKSUPClubs national series event down over at Southampton. I paddled much better here and had closed up massively on some paddlers that had been beating me (by margins best measured by a calendar rather than a stopwatch) earlier in the year. I'd made a few modifications to my board which had helped but I also finally had a decent and clean start. The going was flat and ripple free which suited me just fine. I was happy to finally get into the range of some strong paddlers and finish the season on a high.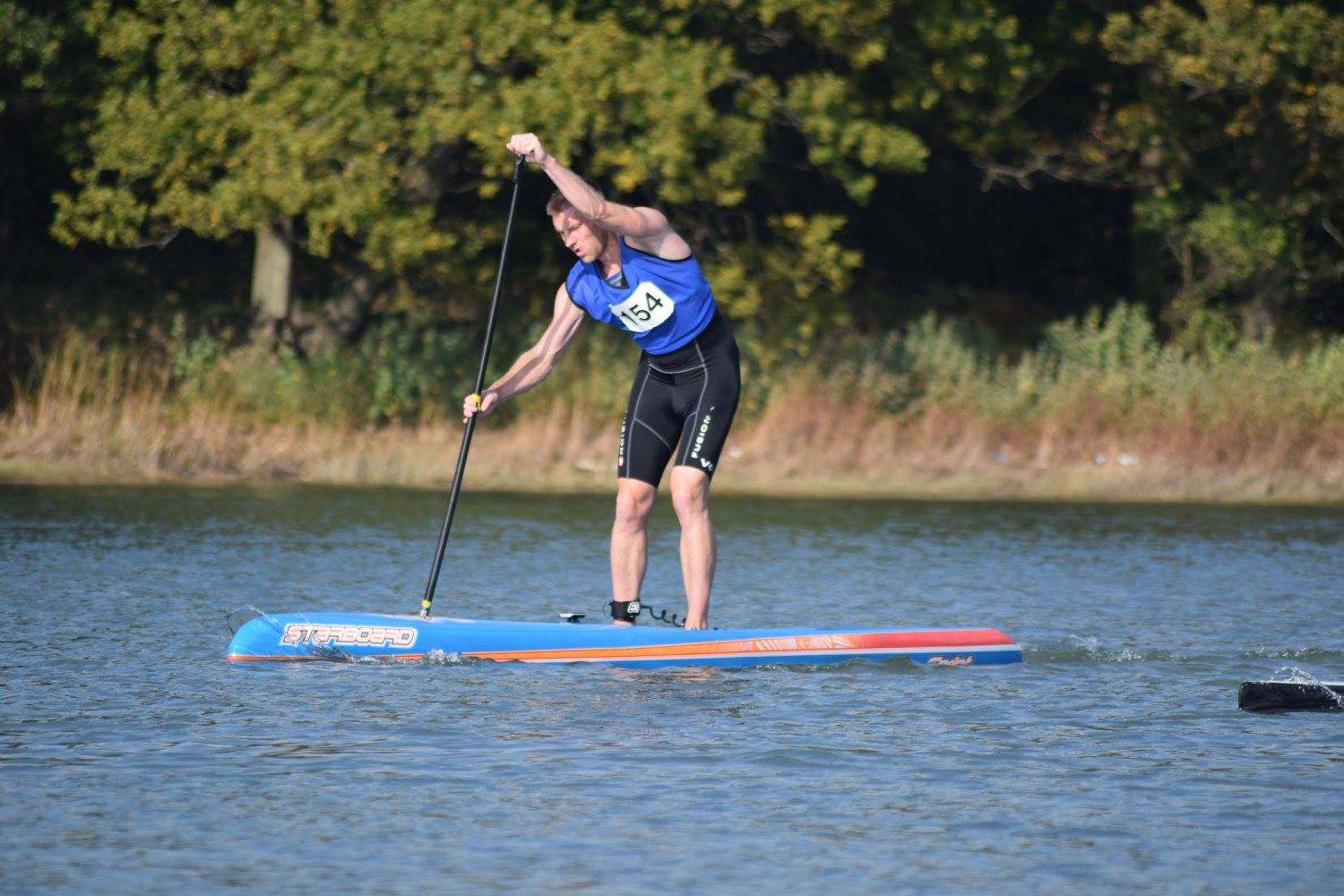 With that last event, I'd qualified for the national series and ultimately finished in 11th overall in the 14ft class, which was a pretty fair reflection of my current ability. I was also keeping track of how I was doing relative to other paddlers as the series unfolded. I did this by calculating the time difference from myself to a few paddlers in different classes as a percentage and knocked up a quick graph to track it.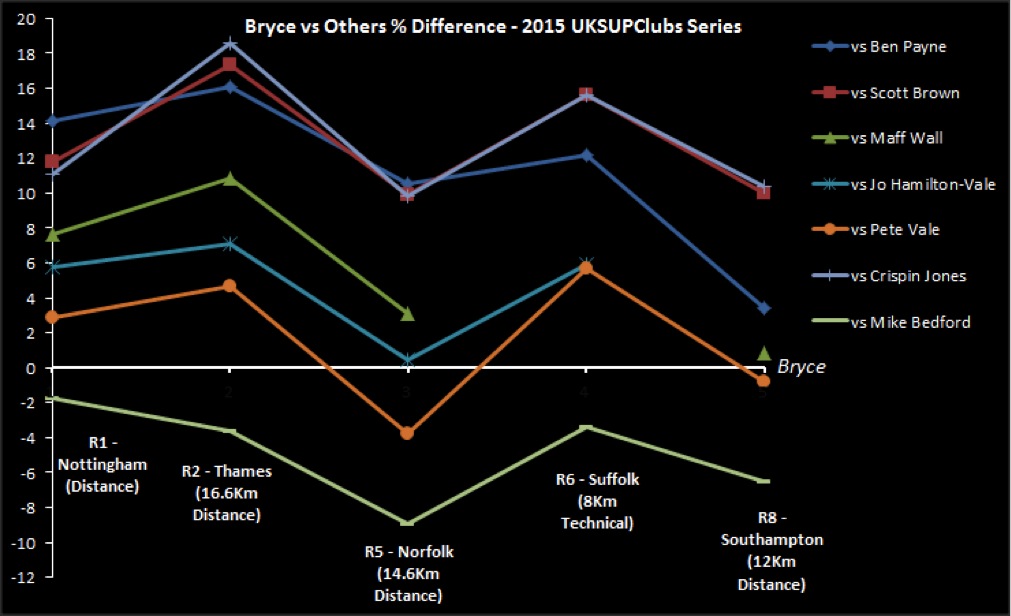 In this, I represent the horizontal axis. The closer a paddler's data point gets to me at zero, the closer to them I was getting in the race. So, in the case of this graph, you can see that at the Thames race that I did not have a great day out (and I was nearly just as poor at the Suffolk event). However, you can also see that my best events were both the Norfolk and Suffolk legs. I can take from this that long, non-technical flatwater courses suited me best. That gives me a guide of what to shoot for next year and where to improve. However, with my training now moving away from cycling and starting to build up from my current 1 hour of paddling a week upto potentially 8-10 hours by next spring, it should be an interesting journey to see what my typically more structured and scientific approach to competitive sport can bring me next year.
If you're interested in the sport but unsure of trying a race, I can highly recommend any of the events I did this year. You'll find the paddlers pretty friendly, the environment not intimidating at all and you can chat and rub shoulders with everyone from first timer's right the way through to fully sponsored paddling gods.
Dr Bryce Dyer has been a SUPboarder contributor throughout the season and we're really glad to see his progress through the sport this year. We're looking forward to his 2016 season and anticipate seeing him pressure on the paddlers who finished above him in 2015.