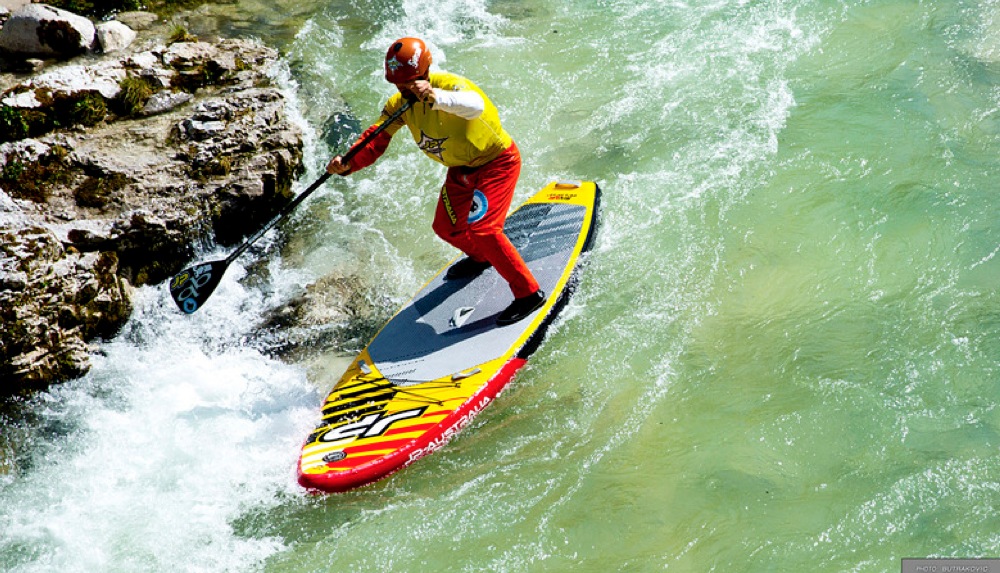 SUPboarder Magazine columnist Chris Jones looks at some of the shapes of SUP we have in the industry today… from white water shapes to custom boards and graphics.
Now that the 2015 ranges have been announced by the major brands it's a good time to look about for what's new in the world of SUP boards. Here we look at the evolution of some board shapes, new developments of niche shapes in an already niche sport. This is by no means an exhaustive list so if there's something that I've missed then let me know…
The first 2015 board to catch my eye, as an inflatable man, was the Red Paddle Flow, a more specific whitewater board than this iSUP brand have offered before. This 9'6" x 34" x (nearly) 6" board has an eye-catching set of graphics in line with the new Red Paddle branding, is equipped with grab handles front, back and sides and 4 fixed short fins. This is something I want to have a go on, just for giggles as I'm sure that whitewater SUP is just an even quicker way to get me swimming than surf SUP is. Which is exactly why I need to have a go, once I've found some pads, a helmet, a few qualified first aiders and a stretch of easy whitewater. And you cannot go wrong with an Orange SUP!

Bright colours make a lot of sense in a white water environment and JP-Australia SUP have their Rivair in red and yellow which really stands out. This is also a 9'6" board but with a 4 or 5 fin set up, the center fin is removable which may give more options away from the river.

Where the Red Paddle and JP have a sharp profile with a distinct bow and tail Starboard, with their Astro Stream, have gone for a different shape with a much more rounded bow and a wide tail. They've also got a 4 fin set up but made theirs removable, for those days when you've not got enough water or fancy pushing your limits that little further.

This board type has been around for a little while now with a number of options for whitewater paddlers. Examples include US brand Badfish with their i-SUP options and US kayak brand Jackson offering their SUPercharger board. Until recently though there was limited availability for this type of board here in the UK, something that brands and importers are addressing this season. Time will tell if this is the start of the next big thing in the UK.
Next up, as much because of the catchy name as the catchy board shape is the Starboard Nut, already featured here on SUPBoarder Mag with this video. An 11'2" x 30" surf SUP that is a mix the best of short board and long board and with a shape that looks a lot like a peanut or groundnut. Personally I like the graphics and the name, would be good to see one in the flesh, or the nut. Again not a new shape as such but a migration for this shape further into the mainstream, will be interesting to see if this shape stays around and evolves further.

A big jump up in size now to the category of Monster SUP. Not a new shape by any means as these big boards are definitely surf sup shaped. But in these times of austerity it's nice to see the opposite of cutbacks. Manufacturers have been upsizing in a strategic board race, Starboard with their new Starship i-sup which at 18 feet long is pretty big, and Fanatic have their own big inflatable too. But the biggest board around at the moment is SUPzilla, is possibly the first i-Sup with it's own song, "a surfboard that's a ship" and is a board for a party if ever there was one! Taking the concept of tandem paddling and adding all your mates plus their partners, friends and pets, probably. I cannot imagine how long that would take to inflate but at the beach with a group it would be hard to beat for sheer fun.
Back to something approaching reality and a board shape that I find fascinating, the Standamaran, or twin hulled SUP board. The first time I saw one of these was in this video from SIC , the Ding King where the standamaran plays a bit part in an entertaining down winder video. This type of board would probably be harder to live with than the party board but it looks so fast that even with me on it I reckon in the right conditions I'd be paddling solo, leaving anyone else behind. Feel free to send one to SUPboardermag for a test paddle.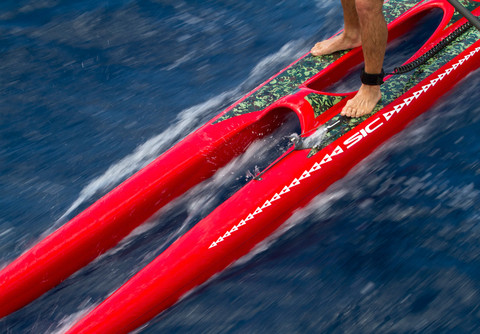 Back to something most paddlers could live with and enjoy regularly, the like-a-race-board but not quite a race board. Fast touring boards seem to be getting more and more popular as race boards gravitate to 26" width. While this undoubtedly makes them faster on the right day these more specialised boards will be more of a challenge in less than ideal water conditions, something that everyone reading this will know about! And as a result more weekend racers are turning towards the slightly wider and nearly as fast touring board. An example that I like the is the slightly retro looking, wood decked Loco SUP Race/Tourer in 12'6" or 14' x 29 wide enough for most paddlers to use all the time yet shaped for speed and distance. With a trend to slightly shorter but still fast boards Fanatic have the Ray, available as an 11' x 30" and a 12" x 31 1/2" board with the option of a mount for a windsurf mast.

Finally, from now anyway, the ultimate board for any paddler would surely be a custom SUP, something made the way you want. For the more discerning paddler this allows them to specify everything from the nose shape to fin options and everything in-between. If you need a little more, or less, volume, 6 GoPro mounts, of course! Or a rocker that's just right for a local break. Just talk to your local shaper. Or maybe chose a stock board and let your creative side out, creating a paintjob to make you smile when you open up the board bag on a wet miserable January day, like this custom Escape SUP which is nothing short of striking.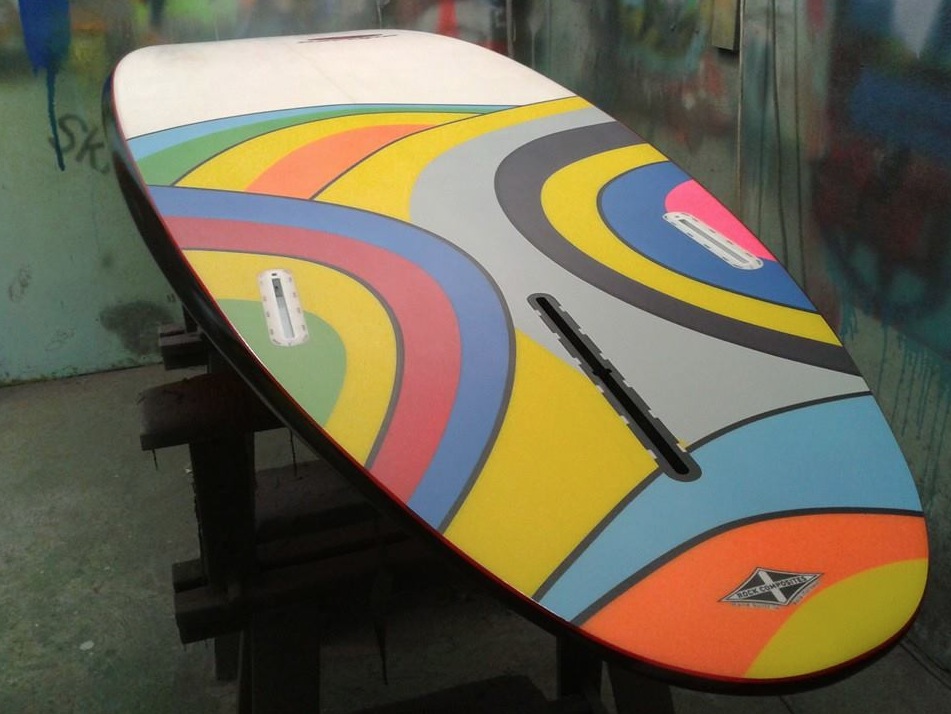 There's a huge range of boards becoming available in the SUP market to suit all needs and abilities, with some interesting shapes appearing who's success will ultimately be judged by the consumer.  Its great to see so much innovation and competition in the industry already, something that will continue to deliver an improved product year on year that is ultimately going to give us, the SUPboarders more value for money. Get out and enjoy some new shapes…. Happy Paddling!
Words : Chris Jones