SUP is a great way of introducing kids to water and watersports. Sitting, kneeling, standing or simply jumping on and off and getting wet… kids can do it all on a SUP, and you can be sure they've had such fun they'll be back for more! Easy to learn, it will be a rewarding and enjoyable experience for both them and you. And before you know it they'll be out in the surf taking your waves or racing past you! 
2014 has seen more kids SUPing events and races being organised, giving kids something to work towards and enjoy being part of. But it doesn't have to be all about competitions. Really it's just about them getting out on the water, in the fresh air and having fun.. and you too of course!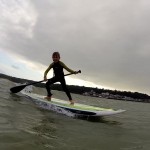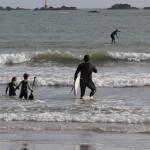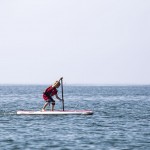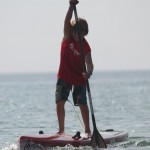 Experienced SUPboarder and SUP dad Tim Axford made this cool grom video (above). The 'Summer of SUP' grom crew are, Sam Axford age 10 (now 11), Toby Axford age 7, Hector Somay age 7 and Maddy Somay age 10. They really do look like they're having a ball. So how did Tim get his kids into SUP?
Tim Axford's top tips for getting kids into SUP…
On the flat
Start with them on front of your board to get water confidence wearing a life jacket.
Get a tow line for longer paddles. If they get tired or if the wind picks up you can always tow them home. A tow point at the front of their board is really useful as well.
When they are ready – Start with beaten up kit or kids inflatables. Fanatic and Red do great ones although all manufacturers are starting to make them now. You don't want the kids damaging your pride and joy! If they get into it then you can sell the beaten board for what you paid and get some new stuff.
Freestyle – Kids are amazing at freestyle. Light weight and big boards mean they can do stuff we can only dream of! It builds essential skills and is a lot of fun.
Give them a gentle nudge – Don't be pushy but a gentle nudge given at the appropriate time will bring you and your kids great rewards. There is a fine line though and you can take a few steps back if it is at the wrong time.
In the surf
Expect to spend a lot of time in the water. They are young and need help. Going on your own SUP in the surf with them does not work. Build their confidence by getting in the water with them.
Get some fins (flippers). It's a much quicker way to move around.
Start with small gentle breaks.
Get a Gopro. It's the best way of capturing their exploits and they learn a lot from watching themselves and love seeing what they can do.
And remember… if your kids get into SUP then you'll get more water time too!

More great SUPing kids
Downwinding
Maui to Molokai Stand Up Paddle Championships 2014. 14 year old Lara Claydon paddles the 27 mile race Across the Pilolo Channel on a 14′ Starboard Ace in 4:58.
Surfing
Kai Kai Claydon
River Paddling
River Surfing Trick with Badfish SUP Team Rider Miles
You only have to look at the young Izzi Gomez (who has just taken the Stand Up World Tour title at only 14 years old) to realise that if you start young, want something enough, and work hard at it, then anything is possible. Who will be the next young gun to take the main SUP stage I wonder? Some UK groms to watch out for are Ollie Laddiman from Wales, James Greenwood from Cornwall, Finn Gamblin from Newcastle and Louie Harrow from Devon.
If you have a SUP young gun who you feel deserves a mention in the world of SUP please let us know and send us a picture of them in action.