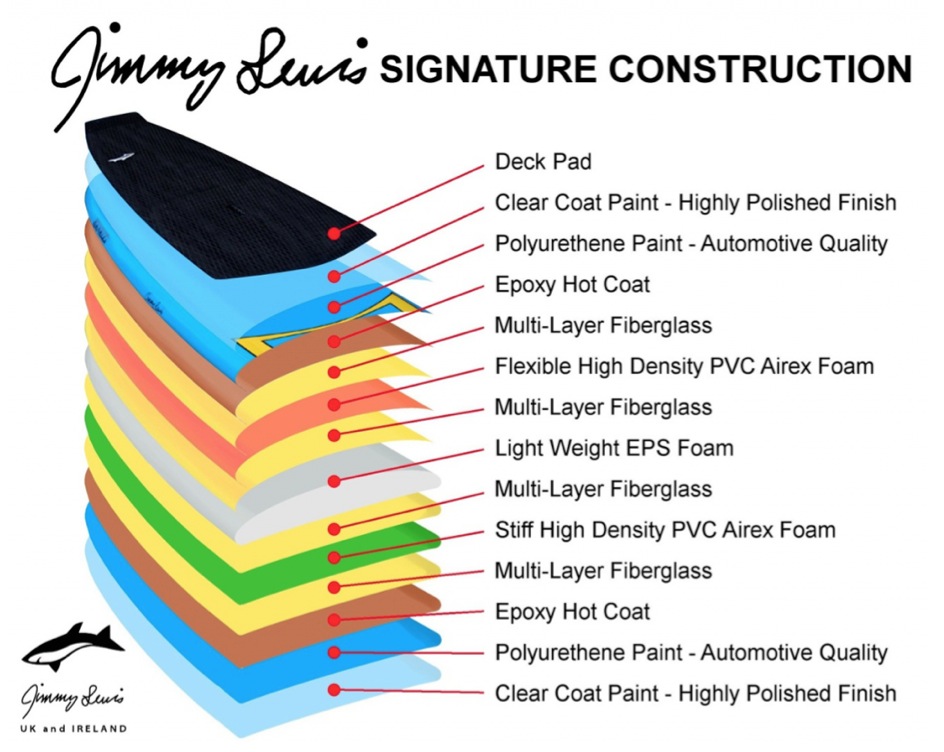 Jimmy Lewis has been shaping boards for over 45 years and in that time he has learnt a thing or two about board construction.
Having developed a unique sandwich construction method that creates super light but strong boards means you are using a board that is built to last.
What materials do we use
The boards come as either glass or carbon.  That is along with the high density foam and top  coat that gives that perfect finish.
How the Jimmy Lewis construction works
By creating a multi-layered sandwich of different materials that all offer a different asset we are able to create a super strong structure.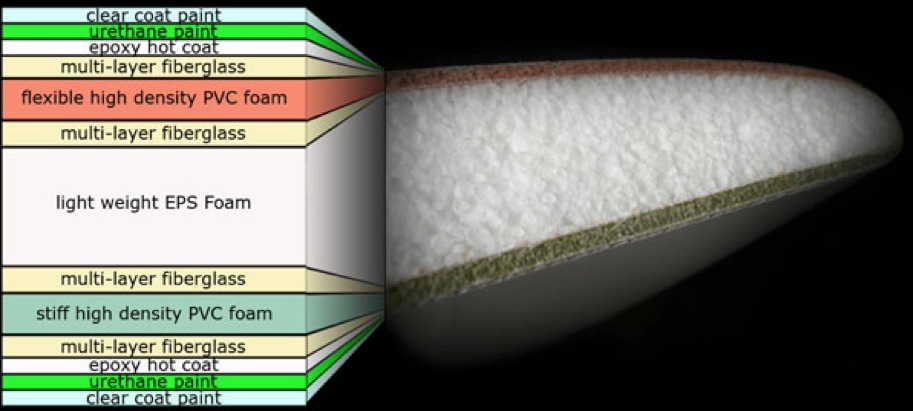 With most standard boards the construction is a wrap of glass or carbon/mix around a foam core.
Jimmys construction lets the shaper wrap the foam core with thinner layers of glass or carbon and flexible sheets of high density PVC foam. (2mm high density is used on carbon boards whilst 3mm is used on the glass)
The epoxy infused result was a lighter weight skin of PVC foam bridging a layer of glass on either side. Much stronger and lighter than fiberglass alone.
Fins and inserts
Many people don't give a second thought to how strong the inserts are in the board. The fin boxes and leash plug are all important just in case you run into the beach or drop your board on the floor.
All of Jimmys boards are reinforced around these crucial areas with high density PVC foam. It may not seem as important to you as the overall look but a pretty board can't be ridden without a fin.
Automotive Hand-Painted Finish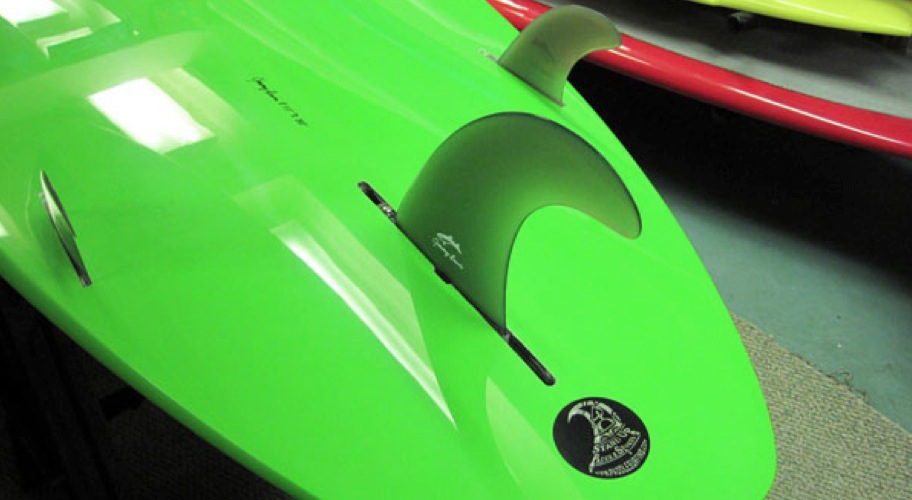 This is probably my biggest hate with a lot of brands. The paint finish looks great when it comes out of the bag for the first time but in a week it is fading, chipping or peeling.
These boards are finished with a hot coat of epoxy, primer, paint and then clear coats. The urethane paints and graphics are laid down in the same way that a car would be painted and we know how tough car paint is.
Each layer is masked and sprayed by hand. The finishing clear coat is hand-polished to a deep shine and this is certainly clear when you take delivery and unwrap it for the first time.
If you wold like to find out more about Jimmy Lewis boards in the UK please check out sup boards uk for our board guide.
You can also see our full range of boards at Standup paddleboards .