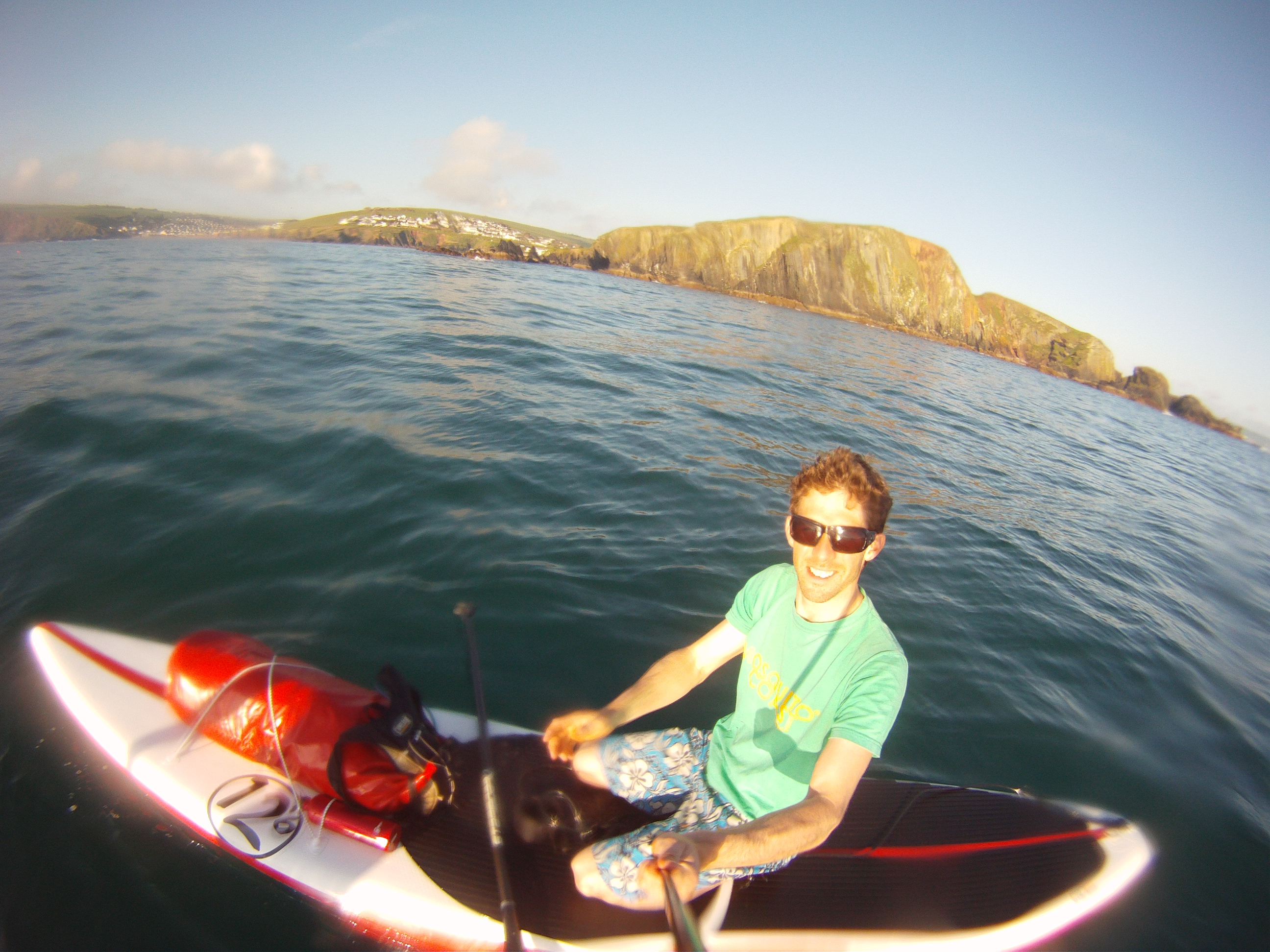 SUP opens up many possibilities on the water, racing, surfing and Yoga to name just a few, but SUP expeditions are something that inspired Will Rogers recently. Ocean SUP and Charlie Heads incredible story inspired Will to disappear for a camping trip on his SUP, but he soon discovered that you don't have to go far from home to experience some beautiful surroundings by just using your SUP to access amazing places slightly off the beaten track.
The idea of a camping trip on my SUP is something that has become somewhat of a fantasy. Having been captivated by Charlie Heads Ocean SUP adventure along the south coast of the UK, I wanted a piece of the action, and my SUP seemed to be the perfect vehicle. Now, im not as much of a nutter as Charlie, and where his goal is to SUP across the Atlantic Ocean, mines a little more reserved. I've always wanted to SUP in the Isles of Scilly, explore uninhabited islands, live of the land (and sea) and take in the beauty of the place. As with most of the British Isles, the weather is unpredictable, so I needed to be able to do this trip on forecast and therefore be prepared. The problem was I had not been camping since I was a cub scout and really I needed a practice run to ensure I has all the gear and I could still remember how to light a campfire. A warm, sunny and relatively windless bank holiday weekend seemed like the perfect place to start for my SUP sleepover.
A frantic Friday evening raiding GO OUTDOORS and I was kitted up with everything I needed for a night away on a beach only accessible by sea. Target camping location was a small beach just outside the River Erme only 6 miles from my home, the plan was to SUP from Bigbury along the coast to my camping spot, eat, drink, sleep then cruise back the next day exploring the rugged south Devon coast that's accessible only for 'cliff goats'.
Teamed up with some friends so I didn't get lonely for large iSUP's to take us on the journey, packing enough volume to safely support us, our camping gear and the 6 bottles of Magners Cider we were keen to take along for the ride. All the gear was packed into 60 litre dry bags and secured in place on the iSUPs elastic tie down points. Weight would be the biggest issue as too much would effect the SUPs performance and balance, so packing came under strict control.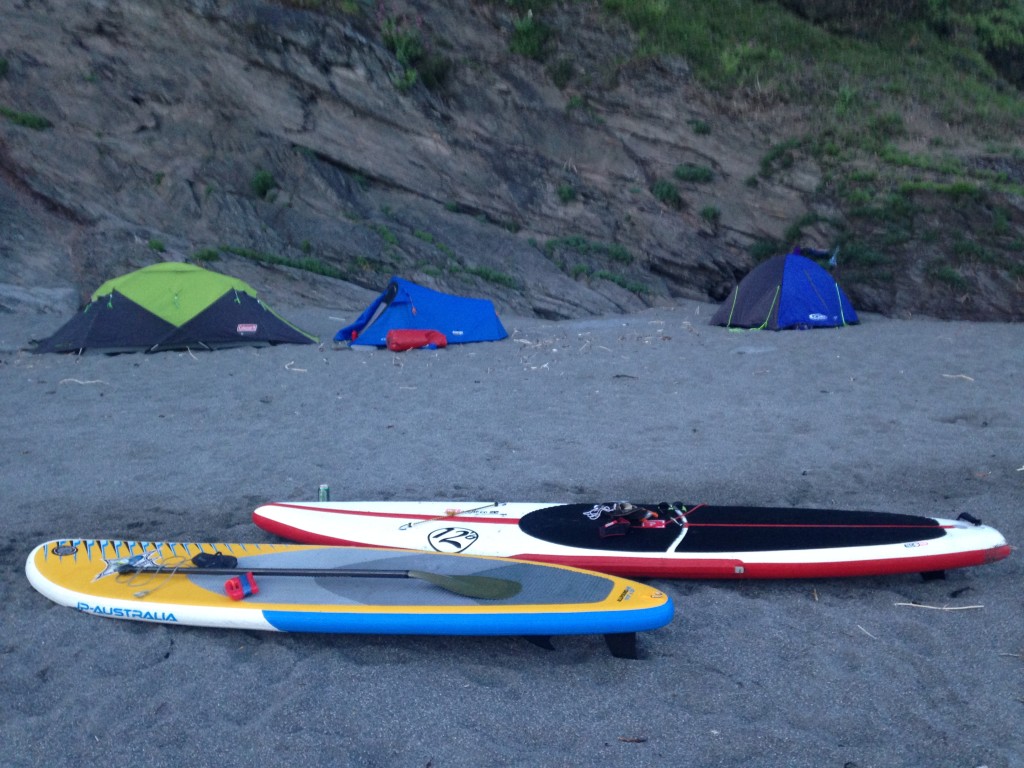 We chose a 2 man tent from Vango, at £40 it seemed a great option, and weighing just 2kg it would not be too much of a burden on performance.
Setting off from Bigbury in the warm evening sun gave us an appciation for how incredible SUP can be, we glided over the glassey water, watching the cormarants drying their feathers on rocks, we were reminded of the simplicity and accessibility of SUP and why we both really love it.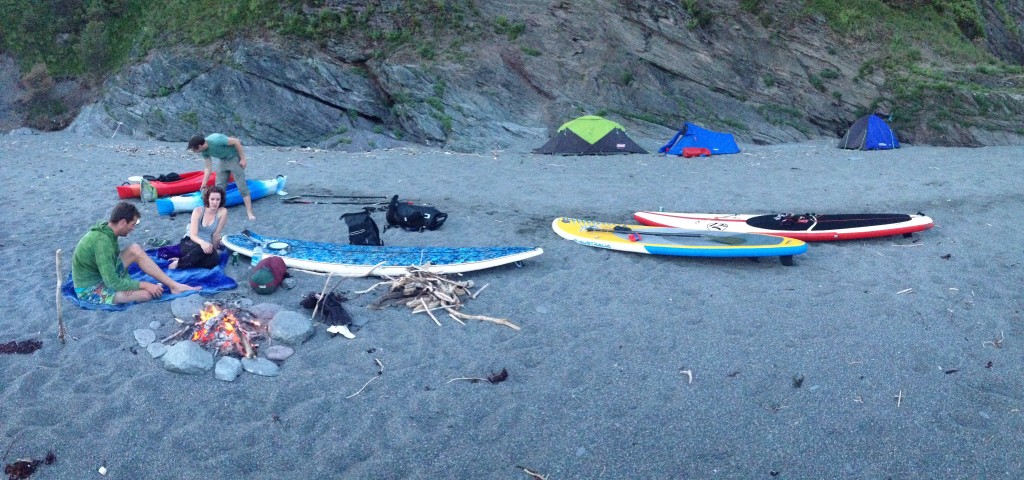 Finding a camping spot that is only accessible by water with a stunning sunset view made us all feel special – you pay good money for views like that and the knowledge that this was a free hotel made it even better.  With camp set up, it was onto the Magners, beach combing for the bonfire commenced and the vacuum packed dinner was heated up.  Cider consumed, the calming noise of the waves sent us quickly to sleep.
The journey home took us along a coast line that's inaccessible by the coastal path, you could have been in New Zealand, in amongst wildlife, waterfalls and beautiful blue water.  There was no body around, we had found our own little paradise, just a short paddle away from the bank holiday hussle and bussle of one of south devons most populated beaches.  SUP really can take you to great places.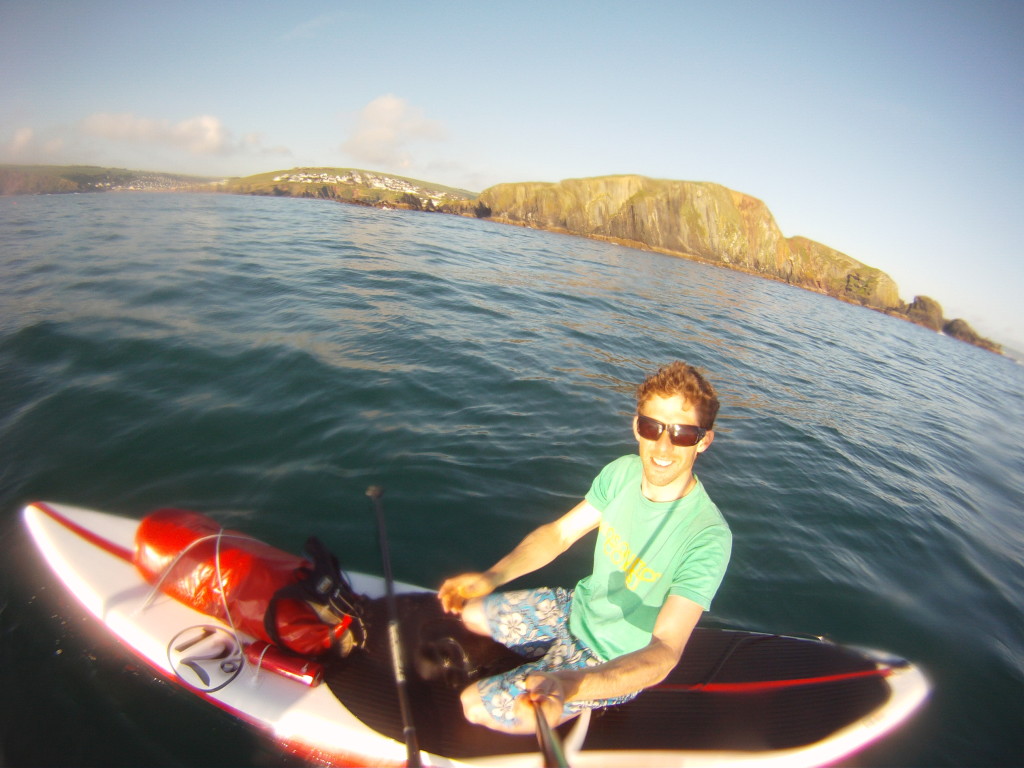 When I set out on this trip my excitement was in the camping, but reflecting on the experience, the paddle boarding was just as incredible, we realized that not only is paddle boarding a great way to explore coastline, but you don't have to go far from home to discover some incredible places which feel that they haven't been seen by many.
Get out there and explore, but remember, truly amazing spots can be just around the corner… Happy SUPing!