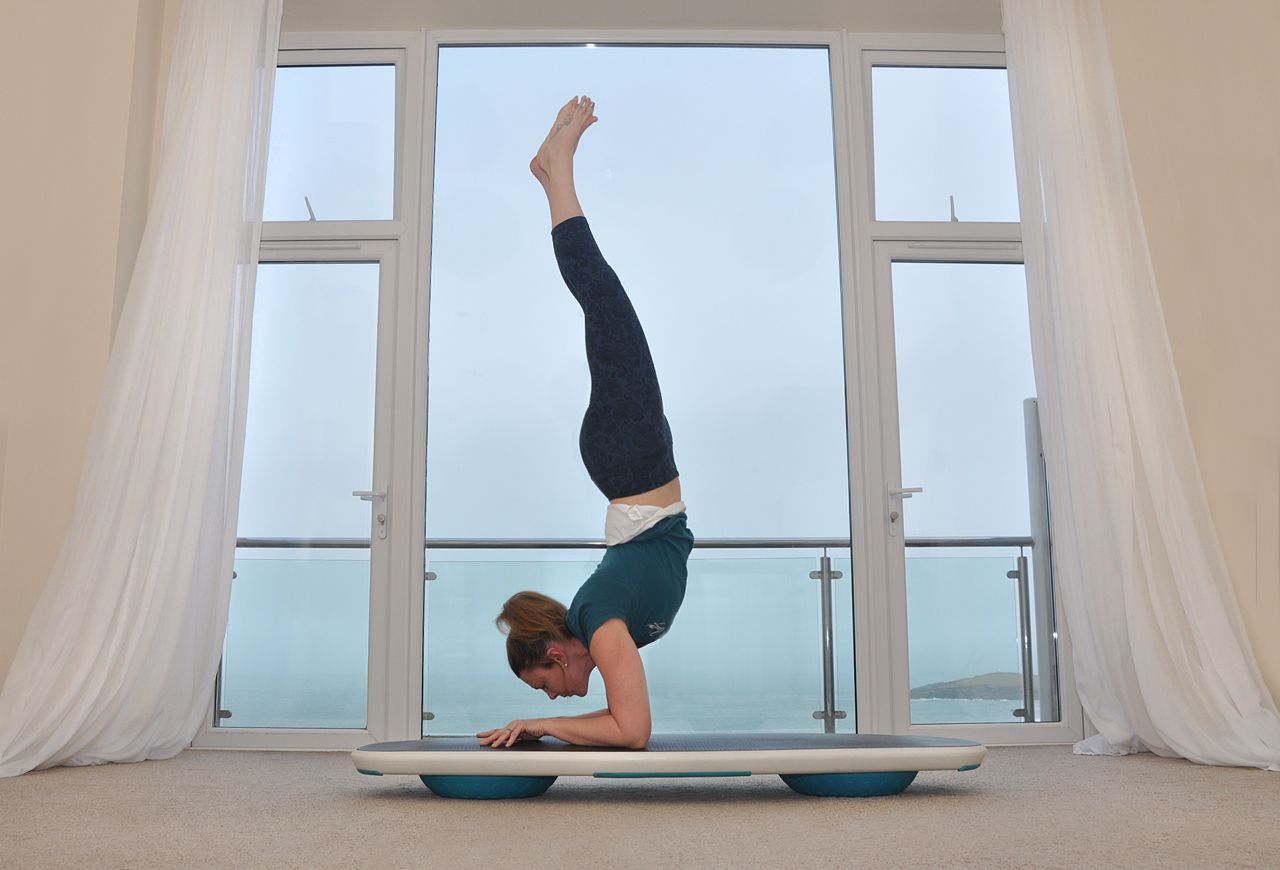 The Ocean Yoga Board is the latest craze sweeping the globe and is fronted by none other than Laird Hamilton, the legend and pioneer of the SUP boarding movement. The Ocean Yoga Board utilises a board that rests on elevated balance pods, allowing it to mimic the instability of water and wave movements which in turn exposes your weaknesses and forces your mind and body to work together to discover stability. The instability of the Ocean Yoga Board pinpoints your flaws in poses and forces you to correct them to remain balanced atop the board. This unique experience engages your mind and body, builds lean muscle and intensifies calorie burn. This discovery provides a total-body workout that strengthens your core, works away excess body fat, and improves flexibility and mental focus.
Yoga instructor Jen Harvey who teaches SUP yoga and uses the Ocean Yoga Boards in her classes says:
"As yoga instructors, we can't help adding a bit of fun and challenge when we go out for a SUP session, making our boards the alternative to a yoga mat!  Practicing SUP Yoga we noticed immediately how much extra we had to use our core stability and strength to stay balanced in postures, which in turn helped us in our regular yoga practice on a mat.  SUP yoga is growing in popularity here in the UK and has so many benefits that help improve form in both yoga practice and when out on the SUP.  Fitness, strength and stability are greatly enhanced with regular sessions as well as helping focus our minds on being in the present to stay on the board. However, the conditions cannot always be perfect for SUP Yoga so we were very excited to come across the Ocean Yoga Boards, a new product from the USA, which gives us the ability to bring SUP Yoga into the studio so you can get the same benefits whatever the weather! We love using these boards with our students and there is always a lot of laughter as well as sweat from a good workout and wobbles! Many of the people using the boards are surfers and paddleboarders and they really enjoy the chance to work on different muscle groups each class, improving their fitness, strength and stability for when they get out on the water for real."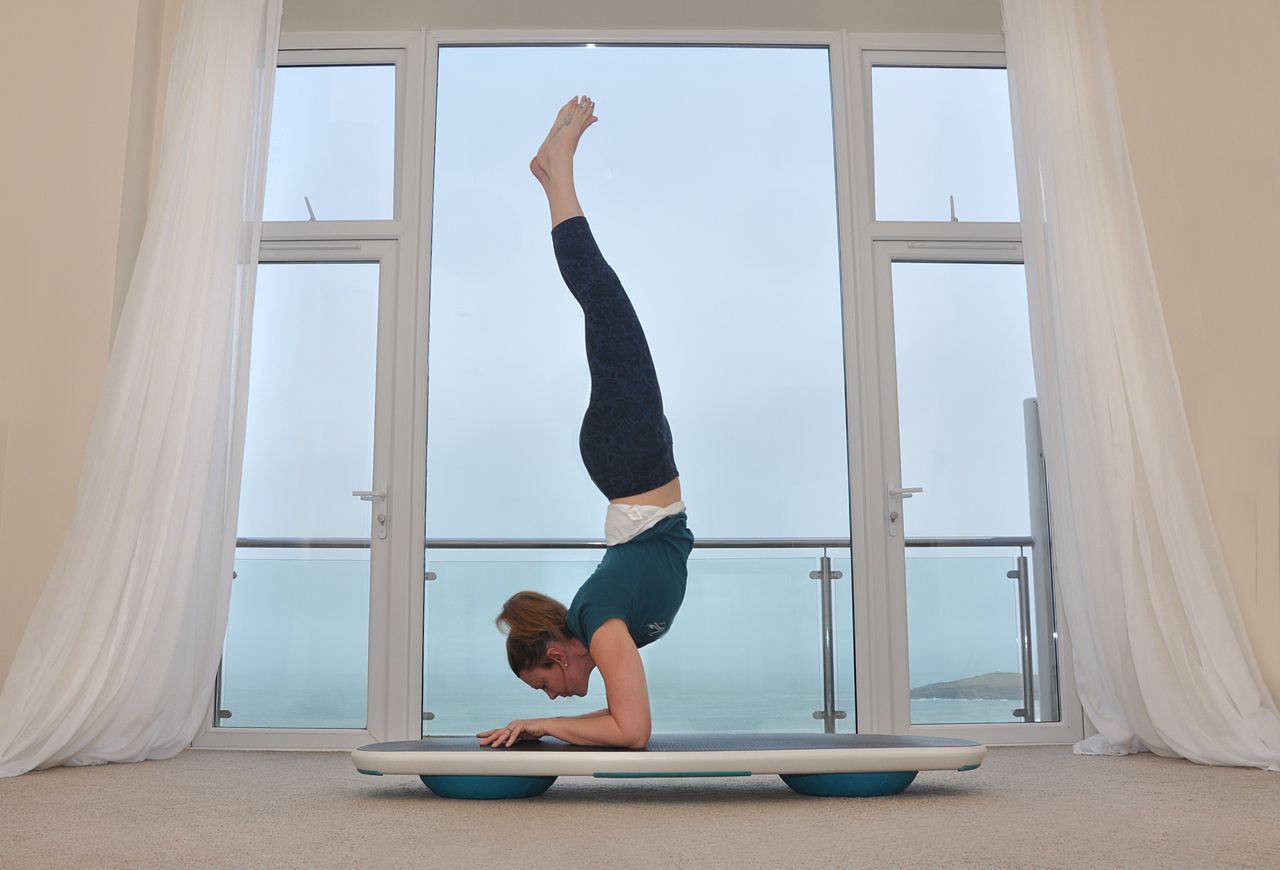 Oceanflow Yoga Studio, based in Newquay, Cornwall hosts stunning views over Fistral Beach and is the first venue in the UK to use these boards. As well as regular yoga classes, they also offer private sessions on the Ocean Yoga Boards for up to 3 people. In the private sessions, they can tailor the class to suit the individuals looking to improve any weak spots they may have in their yoga practice or SUP form. There is also a weighted paddle that can be used with the board for Paddle Fitness, a workout designed by renowned surfer and paddleboarder Laird Hamilton which simulates more of a paddleboarding experience. Each workout uses real paddleboarding movements to increase strength, balance, coordination and conditioning.
Oceanflow Yoga Studio will soon be introducing more boards to their studio allowing them to hold regular classes, retreats and training sessions. They will also be distributing them to other studios across the country who want to offer something totally unique and new. If you would like a board at home to practice on when you can't get out on the water, they will also be selling them for domestic use through their online shop, Yoga Emporium.
Words by : Jen Harvey from Oceanflow Yoga Cornwall: Bringing SUP Yoga to the studio.
For more information:
Classes:
www.oceanflowyoga.co.uk
www.facebook.com/OceanflowYogaCornwall
Email: stretch@oceanflowyoga.co.uk
Retail:
www.yogaemporium.co.uk
www.facebook.com/YogaEmporiumOnline
Email: info@yogaemporium.co.uk
So what are you waiting for? If you can't SUP outdoors or just want to try something a bit different, bring SUP indoors with an Ocean Yoga Board.