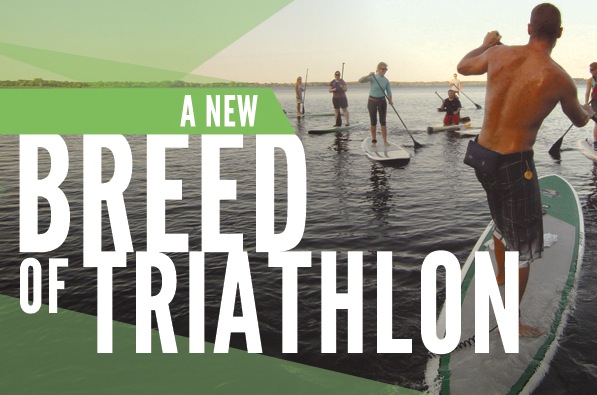 Do you like the idea of doing a triathlon but don't fancy the swimming? Do you want to try a different SUP event this year? Are you keen to push yourself to the limit or have fun with some mates? If that sounds like you, then why not take part in the first triathlon of its kind in the UK… #supbikerun.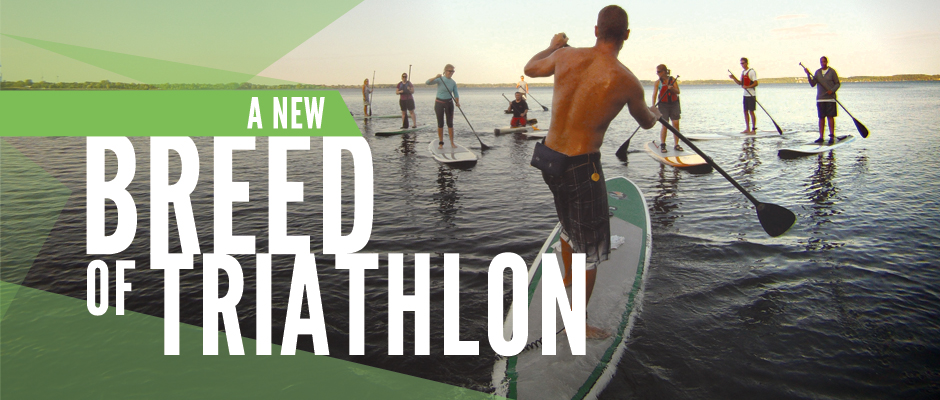 What is #supbikerun? This style of event isn't a totally new concept, as tri-sports events combining SUP have successfully been delivered in Hawaii, USA and Canada but this is a new concept to the UK. #supbikerun is a new breed of triathlon. The traditional triathlon format as been flipped on its head… the swimming has been replaced with SUP (stand up paddle boarding) and both the bike and run are set on off-road tracks and trails. From the lakes to the mountains, experience the ultimate event and challenge with #supbikerun.
When? Sunday 21st September 2014 (but additional future events already being planned)
Where? The first #supbikerun event will take place near Chichester, West Sussex. The stunning location just outside the historic city of Chichester includes a 40 acre freshwater lake with superb facilities, excellent access and plenty of great off road trails. There's also plenty of space for sponsors to exhibit and demo products.
What's involved? Commencing with a 3K SUP on the lake, you will then transition to your mountain bike where you will explore a stunning 30K loop that takes you from the Goodwood Motor Circuit, across the West Dean Estate and then finally up and over Kingley Vale (an ancient yew forest with leg biting hills). The event concludes with a gentle 5K-trail run to warm down and complete your adventure. If you don't know whether you're up for the challenge or want to find out more about whats involved click here.
All events are chip timed and each participant will receive a #supbikerun goodie bag at registration including a #supbikerun T-shirt and more! And upon completing the event you will be awarded a #supbikerun finishers medal.
What kit will I need? You can use any size or style of board for the SUP event. If you don't have your own board then don't worry, a limited number of RRD Airace SUP's will be available to hire on the day (booking required) For the bike section, a mountain, trail or hybrid bike is recommended (not road bikes). And you'll need suitable shoes for running along off road tracks and trails.
Who can take part? #supbikerun welcomes all fitness levels to their events, from pro racers to simply a few mates wanting to enjoy an adventurous day out. So no excuses! You've got lots of time to get training! And don't even have to have lots of SUP experience.
If you're new to stand up paddle boarding… not a problem! #supbikerun has partnered with RRD to deliver a series of pre event SUP Taster Sessions in June/July prior to the event. The 3hour session introduces you to the sport, the equipment and the best techniques. All equipment is provided and you will be using the latest RRD Airace boards (Kialoa paddles and buoyancy aids provided).
Or why not volunteer to help out at a #supbikerun event, and get one entry free!
How can I get a ticket? Click here to enter. There are only 100 tickets left… so get yours now to be sure not to miss out!
Read what event director Sam Lutman-Pauc had to say to SUPboarder about #supbikerun;
"Kitesurfing has always been my passion but following a series of freak injuries last year my focus was placed more in to SUP and mountain biking to aid my recovery. It was at this point the idea for #supbikerun was born and following some research I discovered there were little or very few SUP based triathlons. The idea blossomed and the concept grew with the focus on delivering exciting SUP events that can be delivered at lakeside locations across the UK. Our events are open to all abilities, sure we have seasoned pros taking part that will no doubt whiz round but we also have a strong mix of people that simply want a challenge for the year or have always aspired to do a triathlon but have been put off by the swim."
Triathlete Jon Forsyth explains what inspired him to participate in #supbikerun?
"
I spotted this event advertised and thought it was a really great concept, as I prefer the muddy or off-road type events. It offers me a diverse training mix and gives me an excuse to fine tune my SUP skills… roll on the 21st Sept."
Sponsors – #supbikerun is sponsored by RRD, Kialoa, Vita Coco, Mountain Fuel and Pulsin.
For more info check out the #supbikerun website and facebook page.
Or contact Event Director  – Sam Lutman-Pauc on email – sam@supbikerun.co.uk