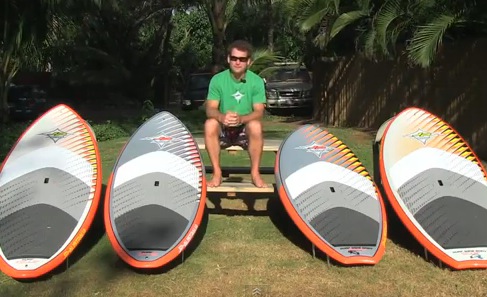 JP Australia SUP Surf Paddle Board come in two constructions and four sizes. the JP Australia SUP Surf Paddle Board is a pro surf board shape designed for riding waves. This Surf range is based on radical surf board designs adapted and adjusted for the needs of SUP.
They are equipped with a narrower nose section, higher entry and extra rocker for real surf board feeling. Keeping them rather wide, in combination with a flat deck curve guarantees sufficient stability to cross the white water. Towards the back the boards have a pulled-in outline with increased V. Once on the wave face, you just shift your weight slightly back and you will experience fast rail to rail response and agility resulting in tighter turns while maintaining speed.
For the advanced SUP surfer they provide vertical turns and surfboard style ripping! The whole range comes with a FCS plug in the nose to attach your Go Pro camera. All four boards come with a Thruster setup. They also come with a mast foot insert to attach a windsurf rig and are great lightwind wave boards. You have to experience that strapless wave windsurf feeling.
For more information on JP SUPs visit there website here.