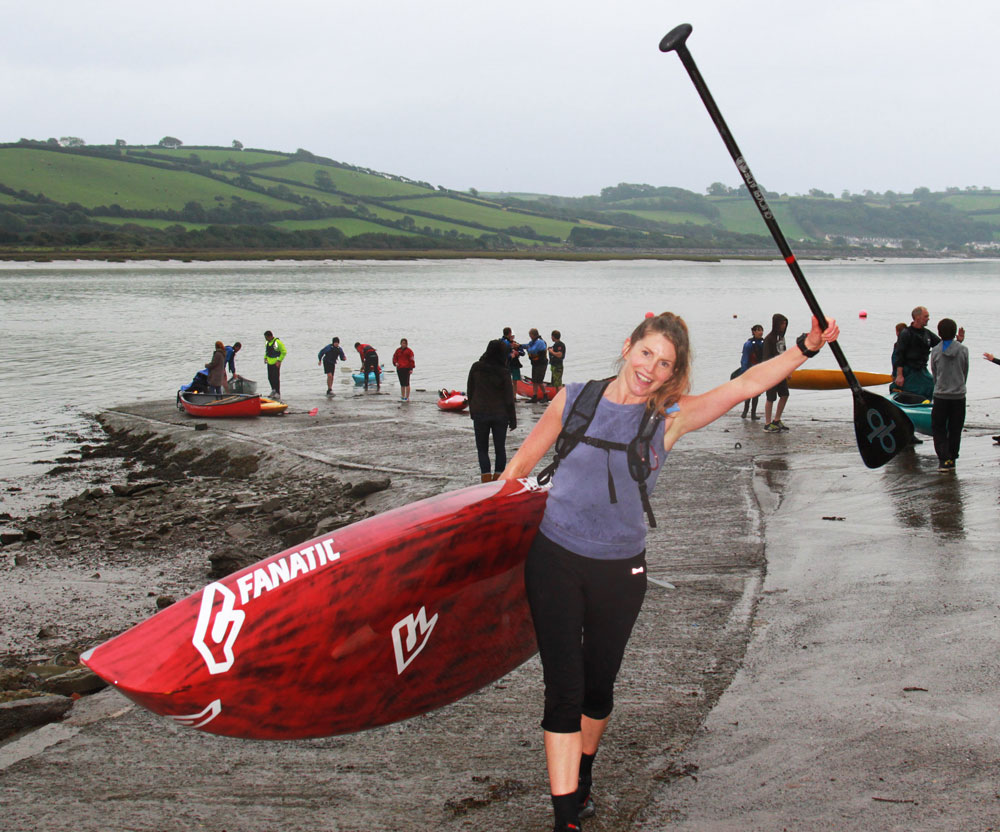 After breaking her comfort zone and battling through blood, sweat and tears, Jay Doyle is back with the final part of her inspirational personal SUP story. Jay explains how she not only succeeded in her SUP challenge but also exceeded her greatest expectations… which just goes to show that anything is possible if you really want it! Read Jay's Blog (part 1 and part 2) to find out how Jay worked towards achieving her SUP goal.

"Note to self: the next time you decide to take on a big challenge, keep it to yourself."
That was my frame of mind seven months ago, shortly after deciding to train and compete in the national SUP championship race in October. I had just returned from a really tough SUP training session. I was injured and exhausted, in pain and thinking that I had bitten off more than I could chew. If I'd kept this challenge to myself, I could pull out now and no one would know!
But I'm glad I didn't keep it to myself because I might not have seen it through, and I wouldn't have opened up the opportunity to the wonderful support and encouragement which became a big motivator.
On the 13th October I successfully completed my big challenge – not the national race in Devon as planned, but an even bigger challenge, and I couldn't be happier with the result.
My previous blog instalment was on the back of a team win in the slipstream SUP race at Paddle Round The Pier, Brighton in July. The race was a rude awakening of what it takes to compete at a decent level against the tough competition on the SUP race circuit. Although our team won at Brighton, I knew I could have performed better if I'd trained harder, and it was a turning point in the lead up to my big race in October. I needed to up my game.
Within days of returning from Brighton I joined a boot camp programme, 3 mornings a week. I thought this would help me strengthen the areas of my body that my current training regime wasn't reaching. This turned out to be pretty much all of them. The morning after my first session, it took me about ten minutes just to get out of bed and walk (backwards) down the stairs.
I thought I was fit, but boot camp was a painful dose of reality. The sessions are high-intensity and low-enjoyment. They are tough and testing, but that's the whole point: no pain, no gain. For the first couple of weeks just about every part of my body went through a painful transition, but a great trainer and the support structure of a class helped me through it.
The great thing about the sessions is that, even though at times they make me feel like I'm about to die, they are over with quickly. I can't stick to any fitness class that goes on for too long. In the past I have sneaked out of a 45-minute spin class after 15 minutes, not because I couldn't take the physical pace, but because I couldn't endure the boredom. But boot camp is dynamic and always different. I have stuck to it religiously and the efforts are paying off. It has transformed my overall strength and fitness, and the benefits are clear when I paddle long distances. My physical stamina is better than it's ever been.
I still sometimes find it hard to muster the mental stamina and discipline I need, and I'm too easily swayed by temptation. Just recently I set out on an evening SUP training session with good intentions of training hard for an hour. The sea was glassy and the full moon was up. It seemed a shame not to fully appreciate this lovely evening out on the bay. So I swapped the sensible hydration in my backpack for a bottle of Rioja and enjoyed a glass of wine out on my board instead. It was so much more fun than training!
Another distraction – but one with a positive impact – has been surfing. To me, catching waves is much more fun than racing, and I could justify sacrificing race training for surfing, because at least I was getting out in the water and paddling. As I got more paddle-fit through my training, my surfing improved. As my surfing improved, I wanted to surf more. This was great, but my race training often took lower priority.
Race day was finally looming and just days away when an unexpected turn of events changed everything. I heard about a SUP race being held locally: the 12k Sam Robinson Memorial on the River Towy in west Wales, from Carmarthen to Llansteffan. Here's what I was thinking: For 7 months I had been building up for the race in Devon. I had vastly improved my fitness and stamina, race technique and conditioning. I felt confident and ready to compete. So after such a big build up, it now seemed a little nonsensical to drive a 400 mile round-trip to complete a 5k race in Devon when there was an even bigger challenge on my doorstep. This would be a real test for me and I felt up for the challenge – so I signed up.
The Sam Robinson charity race is traditionally a kayak/canoe event, but this year opened up to SUP boarders for the first time. The SUP contingent wasn't large this year, but considering it was the first time for us, we had a relatively good presence and a warm welcome into the event.
Race day morning arrived and I felt in good shape and ready to go. The weather was overcast and drizzly but this certainly didn't dampen any spirit and the atmosphere was wonderful. Learning from some mistakes I made in Brighton, this time I had meticulously planned my provisions: ample hydration and plenty of energy snacks. Having a genuine excuse to eat lots of energy-packed cake was a pre-race highlight, although five slices was probably going over necessity. And I probably didn't need to pack a sixth slice in my shorts, but you have to milk these opportunities.
As we took to the water and gathered at the start line, the atmosphere was jovial and relaxed. The SUP boarders took some friendly ribbing from the kayakers and there was a great feeling of camaraderie. Finally our signal came to set off. My trademark 'bad start' had me fumbling to get going – I have yet to master the perfect start. I quickly recovered and started making good pace, feeling unfamiliarly relaxed considering I was in a race, and I think this was helped by the feel of the event and the surroundings. The winding river and scenic landscape were a nice distraction to the long distance ahead, and because the river was so wide it gave paddlers plenty of space, and the serenity was lovely.
My goal was to finish this race in 1 hour and 30 minutes. I maintained a good pace and although it was tough to keep going over such a long distance, I felt much stronger than I had in my previous race and I didn't get fatigued. Having ample hydration supply made all the difference but sadly, somewhere along the way, I lost my sixth piece of cake to the fish. My pace throughout was pretty consistent and I was satisfied that overall, I was paddling at my optimum.
I had been told that the last 2k stretch of the race was cruel: the winding river straightens out to reveal the boat club finishing point in the distance, and although you can clearly see it, the distance is deceptive and it feels like an age before it seems to get any closer. By the time I could make out the finishing point, I was leading the ladies but much further behind the men than I wanted to be, and even though I knew they would finish way ahead of me, I wanted to close the gap as much as possible. I increased my pace on the final stretch, motivated by the fact that I could finally hear voices from the jetty, and the harder I paddled the sooner it would be over.
As I approached the finishing line I was spurred on by the crowd to keep going, and as I crossed the line I felt completely elated by a combination of adrenalin and relief. After an extraordinary seven months the challenge was finally over. I had completed a 12k race in 1 hour and 23 minutes, faster than I had hoped. I couldn't have been happier with my performance, and the nature and camaraderie of the event made for a perfect ending.
Some very positive things have come out of this experience, but above all are the good times shared with people along the way, from friends who also took up racing just for the hell of it, to race-experienced friends who became impromptu training coaches, to complete strangers who have been so supporting and encouraging, not least through the feedback of this blog. I want to say a big thank you to everyone, for everything. I have also seen a growth in SUP racing locally and some fantastic potential too, and what's really great is that it's across all levels and ages, with an impressive female contingent.
Now that the challenge is over, I'm not sure where my SUP racing will go. I have loved the experience and everything it's given me, and I'll certainly race again. But to race well is to train very hard; you get out what you put in and it requires a lot of dedication and commitment to constantly extend the current limitations of your performance. Although I know I've come a long way, I'm still wondering if I have that unflagging determination to be the absolute best SUP racer I can be.
I think it all comes down to what motivates you. If you want to be the best, you have to really, really want it and prioritise that goal above everything else and make the necessary sacrifices – no excuses. To be the best in your chosen sport must be the icing on the cake, but I wonder if I'm the kind of person who's happy with just the cake!
The SUPboarder Team would like to congratulate Jay on her impressive SUP achievement. This may be the end of Jay's first SUP challenge but we're certain it won't be her last!