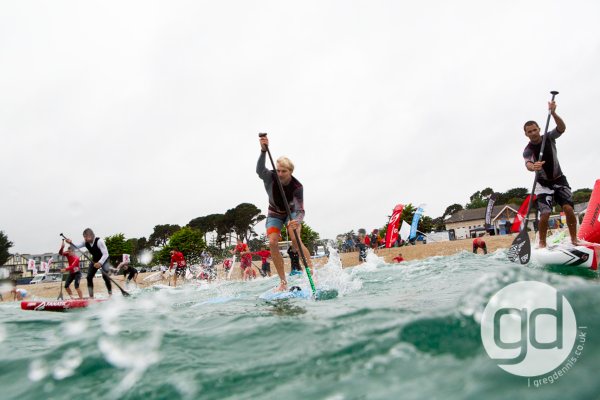 Battle of the Brands 2013
It's always possible to rely on the Great British weather to try it's hardest in ruining summer events. Wimbledon, the cricket, Glastonbury and WeSUP's  Battle of the Brands was no exception.  20mph winds gusting 35 at times, horizontal rain and a sea state that can only be described as butchered, looked set to spoil the days events. But just like those famous summer occasions, the organisers and athletes channelled their inner British resolve, stuck 2 fingers up to mother nature and ran the competition anyway. It also meant that the competitors could earn their title as professional athletes, battling against the elements and creating a whole new tactical element in each race, intriguing for both riders and the few hardy souls that stayed on the beach to spectate.
Conditions meant a change from the normal race outlines and the first race was a simple test of determination and chop surfing skill in an upwind down wind, 2km tag race. After a sprint start to the water it soon became clear that the successor in this race would be the person with the best cardio strength as well as most streamline. It was of no surprise then, when Ollie Shilston, ex long distance runner turned GB paddle boarder, and team rider for Surftech, and who incidentally looks like he could have been born in a wind tunnel took the lead early.
After the change over Ryan James of Starboard powered to victory, shrugging off the nuclear winds, with the help of a pair of 'go-faster ' hibiscus boardies.
What was supposed to be a 6km endurance team event, with drafting and pacing to support the superior 2 team members who were ultimately scheming to paddle across the line first. However once again the weather wasn't obliging and the course was shortened. This in turn meant tactics were thrown out the window and if you now look up the word 'Team' in the dictionary it would be spelt Iteam. In  a pure case of survival of the fittest nature decided that Starboard were once again most capable of dealing with the conditions, with Surftech following in a close second. There was an amazing sense of companionship from fellow athletes who after finishing paddled back out to encourage the remaining riders.
This slideshow requires JavaScript.
Photos by Greg Dennis. For more information & to purchase GD photography visit Greg's website at gregdennis.co.uk
The conclusion to proceedings came in a fast and furious 1km tag team sprint race. It was simple… first team was first in the warm, dry pub with Cornwall's finest cider in hand. Clearly Starboard's second team, Paul Simmons and Peter Kozinski were most desperate for a pint and romped victory. Team Surftech again finished second, with Ryan James and Roman Perez completing the Starboard sandwich.
The victorious brand was the dominating Starboard, with Surftech, surprise surprise finishing in second. The real victory though was with the competitors who showed their sponsors why they deserve to stick the stickers on their nose.  It took a serious amount of athleticism to compete at the level of intensity displayed. And the overall winner was SUPing 3, British summer 0!
Massive thank you from everyone at WeSUP who helped set up and pack down, and to Naish, Starboard, NSP, Surftech and RED for bearing the weather with a smile on your face. The night's drinking was well deserved, see you all again next year and fingers crossed for the weather!
– words by Liam Brennan, WeSUP.
Overall results
| | | | | | |
| --- | --- | --- | --- | --- | --- |
| BRAND | RIDER | GENDER | FINAL | | NOTES |
| | | | POSITION | | |
| | | | MALE | FEMALE | |
| | | | | | |
| STARBOARD | RYAN JAMES | MALE | 1 | | |
| STARBOARD | ROMAN F PEREZ | MALE | 1 | | |
| SURFTECH | OLLIE SHILSTON | MALE | 2 | | |
| SURFTECH | GILES KENT | MALE | 2 | | |
| STARBOARD | PAUL SIMMONS | MALE | 3 | | |
| STARBOARD | PETER KOZINSKI | MALE | 3 | | |
| FANATIC | SONNY EZ | MALE | 4 | | |
| FANATIC | MARK SLATER | MALE | 4 | | |
| STARBOARD | SCOTT WARREN | MALE | 5 | | |
| STARBOARD | ANDY JOYCE | MALE | 5 | | |
| STARBOARD | ALEX MASON | MALE | 6 | | |
| STARBOARD | JAMES HART | MALE | 6 | | |
| NSP | DAMIAN WARNER | MALE | 7 | | |
| NSP | ERIC JOOSTE | MALE | 7 | | |
| RED | PETE VALE | MALE | 8 | | INFLATABLE |
| RED | SAM ROSS | MALE | 8 | | INFLATABLE |
| NAISH | ADAM STILING | MALE | 9= | | INFLATABLE |
| NAISH | KENT PERRY | MALE | 9= | | INFLATABLE |
| STARBOARD | CRISPEN JONES | MALE | 9= | | |
| STARBOARD | CARL TOMAS | MALE | 9= | | |
| SURFTECH | TIM BRACEY | MALE | 11 | | |
| SURFTECH | ANNA SHEKDAR | FEMALE | 11 | | |
| STARBOARD | SIMON FROST | MALE | 12= | | VETERAN |
| STARBOARD | MIKE FOAD | MALE | 12= | | VETERAN |
| FANATIC | PHIL PLUME | MALE | 12= | | |
| FANATIC | JAY MANNING | MALE | 12= | | |
| STARBOARD | CHRIS KENYON | MALE | 14 | | |
| STARBOARD | LINDSAY FROST | FEMALE | 14 | | |
| STARBOARD | JO HAMILTON-VALE | FEMALE | | 1 | |
| STARBOARD | MARIE BUCHANAN | FEMALE | | 1 | |
| FANATIC | LIZZIE BIRD | FEMALE | | 2 | |
| FANATIC | SARAH BECKETT | FEMALE | | 2 | |
| | | | | | |