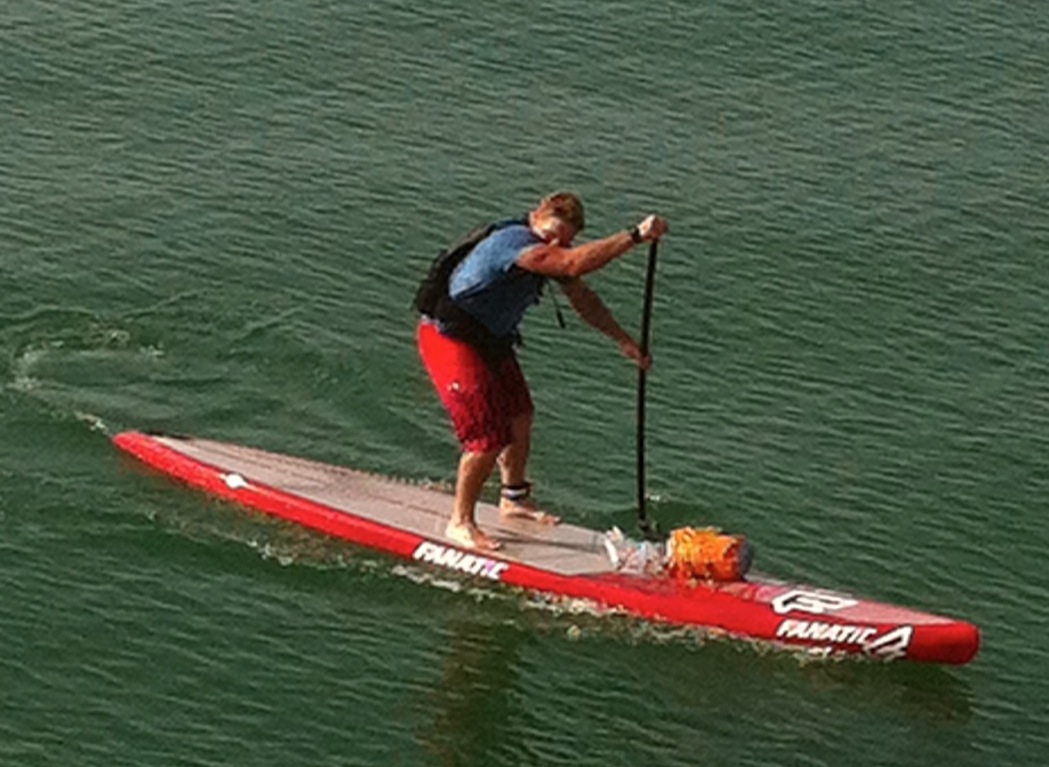 Endurance paddler, Mark Slater tells the story of his unsupported, SUP circumnavigation of the Isle of Wight… 96 miles in 23 hrs 59 mins. Starting and finishing at Boscombe Pier in Bournemouth. And all for a great cause – the Honeypot Children's Charity
Isle of Wight SUP Challenge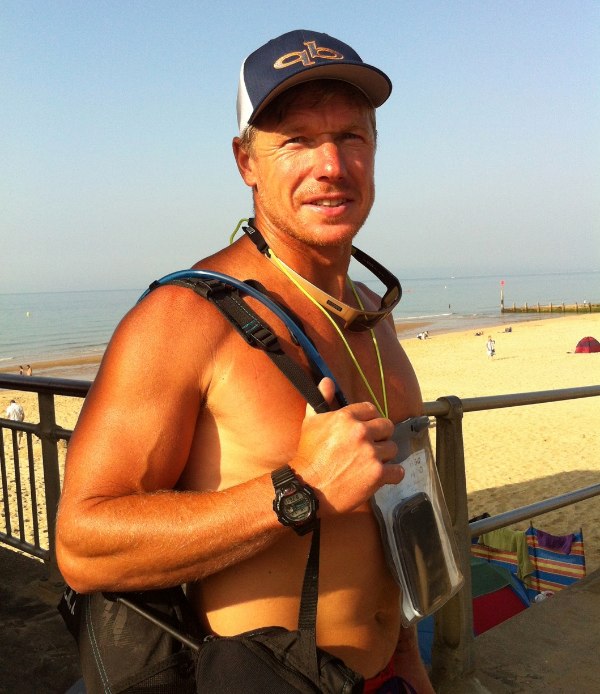 I had been planning to do another solo endurance SUP challenge for a while. But the elements seemed not to be working in my favour for the original route I had planned, as the wind and weather did not want to coincide with suitable tide times. So while chatting with Nik Baker at the Paddle Round the Pier beach festival in Brighton, I had a eureka moment and came up with a plan to attempt a 100 mile paddle in open water, solo, unsupported, i.e. would have to carry all food, water & provisions needed with me and nonstop (as in not get off my board from start to finish).
So once home I got the map out to look at suitable routes… and the Boscombe Pier to Selsey Pier via a circumnavigation of the Isle of Wight (IOW) just looked perfect. I checked the tide times and the tidal flow chart (the IOW has some very strong currents running around it, so you need to try and get them in your favour as best as possible!) and all looked good for the following Saturday.
Equipment and Provisions
Conditions were forecast to be fairly calm, so my board of choice was the Fanatic Falcon 14′ × 25″. Paddle wise, it had to be my good old faithful QuickBlade Kanaha 110. I have had this paddle for 5yrs now and I mainly use it as my surf paddle, but for endurance stuff it just seems to work right for me. I had my ION hydration pack with a 3ltr bladder, a bum bag with compass, painkillers, energy bars, dried fruit & nuts and a malt loaf in, so l could keep nibbling while paddling. I also had two small dry bags in which I placed, 6 high performance ready meals, some total gainer powder, H2Pro Hydrate tabs, a mixing bottle, 4 x 500ml bottles of pre mixed, high concentration tri carb energy drink, more energy bars, dried fruit & nuts and malt loaf, a neoprene beanie, 2 head torches and a day glo vest. I then attached these along with a 20ltr water container to the front of my board using heavy duty suction pads and bungee elastics. The total weight of all my provisions was around 25-30kgs. Pete Holliday also kindly let me take his hand held vhf radio in case of emergency.
So Saturday 13th July dawned and it was beautiful, and forecast to be, a very hot day. I set off from Boscombe Pier at 08.32 and although the IOW was still shrouded in haze I made very good progress. I heading straight out for St Catherine's Point, which is the Southern tip of the Island and about 26 miles away. After rounding the tip I stayed fairly close to the island until I reached Ventour. Here I sat on my board and had my lunch break of two performance ready meals, a total gainer shake followed by a H2Pro Hydrate tab mixed with water and a couple of ibuprofen. I then filled my hydration pack up and started to paddle away from the IOW in a NE direction, hoping at some stage I would start to be able to make out the coastline in the distance. (Selsey was around 25 miles from the southern tip of the IOW)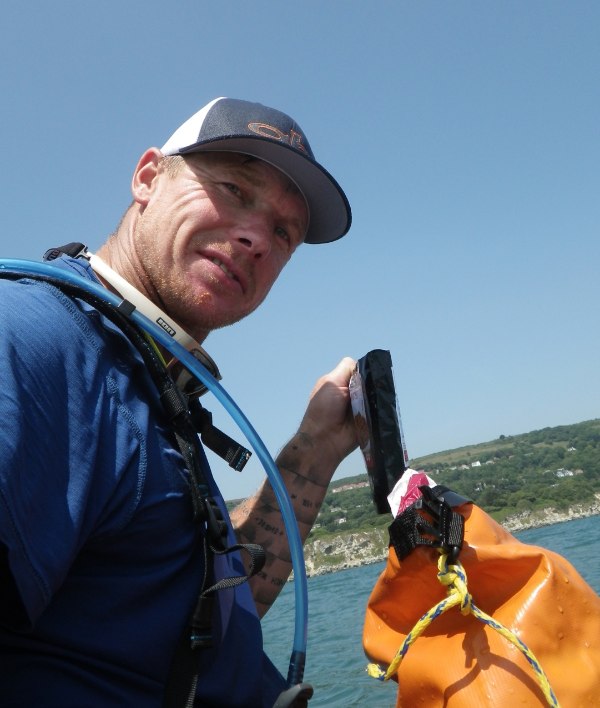 I set off after my break at around 13.30 and I knew that I was going to be against the current on this section of the journey, but I had allowed myself plenty of time to reach Selsey. So it was just head down and dig in! The sea was getting fairly choppy as I was getting further away from the coast, but I had a little breeze blowing from behind and seemed to be making reasonable progress. I was falling in occasionally, but this was at least keeping me cool. From time to time I would take a compass bearing to make sure I hadn't veered off course and after 2hrs of paddling I decided to have a sit down, have an energy bar and rest my legs, as they were getting pretty tired now, after trying to balance in the increasingly choppy water. I tried to load up the map on my phone to check my position, but it failed, so it was back up on the board, another compass bearing (using some of the big ships as reference points) then off again. But this time my legs were really struggling and I was falling far more frequently, which coupled with the strengthening tidal flow was really hampering my progress.
After another 1.5hrs of this I was really starting to go downhill. I still couldn't clearly see land in front of me, just a very faint outline off to the North. I looked back and the NE tip of the IOW was still clearly visible and only around 5 miles away. I had to make a decision. I was in no fit state to keep paddling against the current as I could barely stay on my board and if I left it much longer the current would start to slacken then change so I would struggle to get back to the IOW. So I turned and headed for the closest land, having to occasionally sit or kneel to paddle my board as I just couldn't balance on it.
Two boats came passed and asked if I needed any help and I was so close to saying yes, but land was getting ever nearer and I eventually came ashore at Bembridge.
At this point I was really, really low and I just didn't know what I was going to do. I walked up into the village to try and get service on my phone. I phoned the coastguard (the station at Bembridge was closed) to inform them that I had abandoned the Selsey leg and not sure what I was going to do now. Then I phoned my girlfriend, who has since said I sounded really down and she was just about to say she would bring the van over and get me. But we got cut off just before and I couldn't get service again.
I went back to my board and sorted some food out, and then tried to work out my options and thoughts, which went something along the lines of:
1) I can't stay here for too long as I am starting to get cold in my wet clothes
2) I appear to be stuck on the IOW with little money and only a SUP as a means of transport
3) I am now obviously not going to complete this challenge non stop
4) I could actually still complete a circumnavigation of the IOW unsupported
5) The current is not going to be with me for going through the Solent until around 02.00
So I decided to rework out my food and water consumption and strip right back to what I thought would be just enough to get me home, thereby making my board not only lighter, but not so top heavy and therefore less tippy as well. Then my plan was to hug the coastline to hopefully stay out of the strongest of the current and slowly make my way around to Cowes.
I set off at around 20.20 and made steady progress all the way to East Cowes landing there at 23.45. After a 1hr stop there for more food, total gainer, painkillers etc… I set off again, heading across the estuary to W.Cowes and more coast hugging until the current turned in my favour. But a slight navigational error meant that I actually crossed the Solent and paddled up into Fawley Docks rather than across to W.Cowes!
I was paddling along past some huge boats thinking, "blimey there's quite a lot of industrial shipping on the IOW." But it wasn't until I reached the very end of the docks that a worker shouted down to me;
"Hey mate what are you doing?"
"Paddling to the Needles" was my reply.
"No you're not mate… you are in Fawley Docks."
"No I'm not. I left E.Cowes, headed across the channel to W.Cowes and now I'm heading to the Needles."
"No honestly, you are in Fawley Docks. It is restricted water. You need to get out of here, head back to the spit and turn right."
"Oh bollocks and thank you."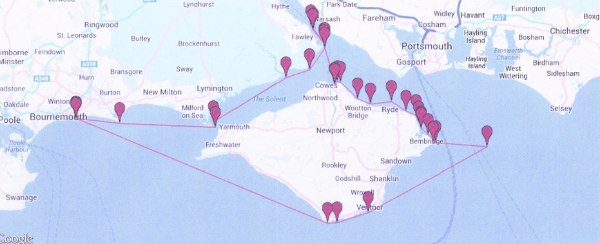 So back to the spit it was and 2hrs after setting off I was back into the Solent at 02.45. Just to be on the safe side I pulled up after rounding the spit and checked I was now hopefully heading in the right direction.
At least now the current would be running with me all the way down passed the Needles (which were about 13 miles ahead) and also the welcome return to daylight wouldn't be far away either. I made really good progress to the Needles, arriving at Milford Spit at around 06.00. I pulled in here for another quick food break and top up my hydration pack, before setting off on the last 13 miles to home. The current was still running with me, which was helping considerably, but I was really having to concentrate on keeping everything together and not fall apart or make a silly mistake at this late stage of the journey. So I just focused on making the next leg to Hengitsbury Head, where I planned to have a quick sit on my board, eat another energy bar and phone my girlfriend to tell her I was now only about an hour away. I made it to Hengitsbury at around 7.30 and after my snack, phone call and text to Pete Holliday, who had said he would try and make it to the finish. I was back up and paddling by 07:40, so with Hengitsbury Head being about 5 miles from Boscombe Pier, I had pretty much resigned myself to not finishing in 24hrs. But as I got paddling, Southbourne seemed to be approaching relatively quickly and a quick look at my watch and I thought there may just be a slim chance I could do this. So I put my head down and really pushed it for the last few miles and on to the welcome sight of not only Boscombe Pier but my gorgeous girlfriend and my two good friends, Pete Holliday and Ryan James, cheering me on and welcoming me back.
I finished in a sweaty and smelly mess, but with 1 minute to spare, in a total time from start to end of 23hrs 59mins. So total distance covered was not quite the 100miles I had originally planned, but including my sightseeing tour of Fawley Docks, I still managed to clock up 96 miles in total. I didn't manage to do the journey nonstop, having 4 breaks on land. But, on the plus side, I did do it totally unsupported, using only food and provisions carried with me and I did manage to circumnavigate the Isle of Wight starting and finishing from the mainland. And also in the process, raised some money for a really good cause… the Honeypot Children's Charity (Just Giving page at: www.justgiving.com/mark-slater5) So yep… all in all I would say a pretty successful days paddling.

What's next? – A ceremonial burning of all my paddleboards.
Mark would like to say a massive thank you to to all those who have donated to the Honeypot Children's Charity, and supported him with this challenge including sponsors, K-66, Fanatic, ION, QuickBlade UK, and The Bag Shop.
Mark Slater lives in Boscombe, Dorset, and has been paddleboarding for 6 years. Mark has completed a number of other endurance paddles including; paddleboarding from Devizes to Westminster – a 125miles solo SUP last year in 32hrs, and paddleboarding the River Thames from Source to Sea in 2011 with Bobby Thatcher & Rich Moreton in 4 days.
Mark also represented GB at the World SUP championships in Peru 2012.