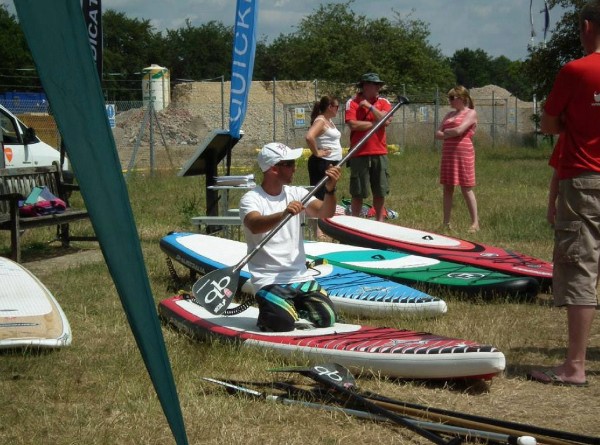 WOW! What an amazing response we had to the South Coast SUP Club launch weekend! We were blessed with amazing weather, and it was fantastic to see so many people come along and have fun on the water. Over the course of the weekend we had well in excess of 100 people come and try stand up paddleboarding for the first time – an amazing turn out!
On Saturday we were based at Longham Lakes with Dorset's Ultimate Canoe Kayak Squad (DUCKS). We had an incredibly busy day with people of all ages having a go at stand up paddleboarding and also cross-over paddle sports including kayaking and open canoeing courtesy of the DUCKS club volunteer coaches. The Mistral SUP raft was a huge hit with the kids and provided the perfect excuse for them to cool down in the water with lots of balance games going on!
On Sunday we were based on the River Stour as part of the Dreamboats of Wimborne Annual River Race Day. We had a fantastic turn out again of people coming along to try stand up paddleboarding, and also those that came along to watch and participate in the racing. The highlight of the day was being able to accompany club supporter, the Mayor of Wimborne, Councillor Andy Hampton, for a SUP along the river. Being as he was dressed in a suit, we were pleased to be able to put him on the stable platform of the Coreban Bear Grylls Scout adventure SUP board as we did not want to be responsible for getting the Mayor wet in front of his admiring crowd!
Now that the South Coast SUP Club has officially launched, applications for membership are open. Please email club@southcoastsup.co.uk for further details and to request a membership pack.
Huge thanks to all those that supported the event including DUCKS, Dreamboats of Wimborne, Sembcorp, East Dorset District Council, Coreban Quickblade UK, Mistral SUP UK, Agent Eight/JP Australia and everyone that contributed their time and expertise to making the launch weekend a huge success.
Happy paddling
By David wood South Coast SUP Club