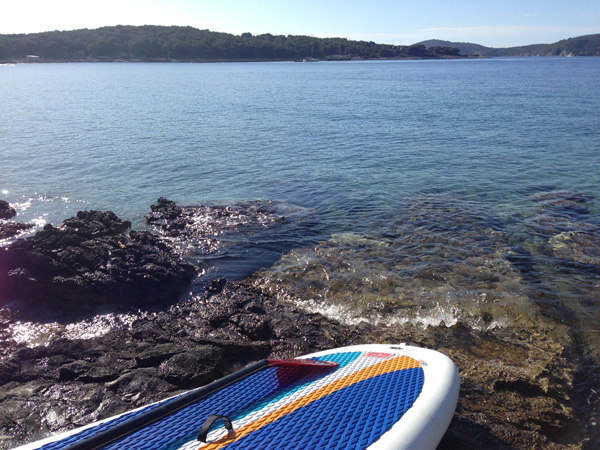 With over 1200 islands and some of the clearest waters in the world there is more to Croatia than you think.
Croatia is located in South Eastern Europe and it is set to become the 28th member state of the European Union later this year. It is bordered by 5 countries, and the capital and largest city is Zagreb. Croatia has the longest coastline out of all the counties in SE Europe on the Adratic Sea, and is known for it's fine coastal weather, and beautiful scenery, making it the perfect holiday and SUP destination. However Croatia has not always been on the tourist map and is still relatively undiscovered.

Phillipe Gigon who has recently set up "Rent a SUP'  in Croatia tells SUPboarder a bit about Croatia and why it is the perfect SUP location…
A few decades ago, Croatia (then called Yugoslavia) was a top destination for Europeans. It was far from all the sophisticated entertainments, now found, on Western Europe beaches… however beers, music and umbrellas were enough, to relax, and to make it a popular holiday location.
Then there was war. A war which dislocated this country in 3, devastating in just a couple of years, all the trust and hope people had built in decades of tourism. Everything had to start again, including tourism which is the main industry in Croatia. Initially building hotels, marinas and highways, prevailed over beach activities. However Croatia is now very much back on the tourism map and has plenty to offer.… including paddleboarding!

Paddleboarders are not only able to explore the wonderful coastline and islands Croatia has to offer but also the 1000 kilometers of fresh, pure water, running throughout the untouched inland landscape. Cetina, Mrzenica, Neretva, are a few of the rivers where you will see fish, are safe to drink the water from the river and are able to truly understand what Croatia had once in Europe, before industrialization.
In spite of their tragic history, Croatians remain warm, open and fun people to hang around with, as long as you understand a bit the Slavic Culture. You will always get helped if you ask for directions, and people will often even take you there.
Hospitality still has a meaning, especially on the islands, where being offered a piece of fish and a glass of wine after a quick talk, still happens.
The tourist season starts mid june ending in late september, and there's an average of 7.2 hours of sun per day over the year.

Arriving by plane to Split, Zadar or Dubrovnik allows you to see the infinite opportunities of lone beaches, bays and creeks this part of the Med offers before you even arrive in the country.
It is also possible to travel to Croatia by ferry from Italy during the summer months or catch a train from elsewhere in Europe. So getting to Croatia is the easy part… It's just deciding where to explore first by SUP thats the hard part!
The beautiful Croatian waters have for a long time been home to some of the busiest yacht charter fleets in the world. And now they are also able to be explored by SUP. Starting in June this year, you can rent an inflatable SUP from numerous locations from Dubrovnik to Sukosan with Rent a SUP. Their 10.6 ride red paddle co boards are available for rent from a variety of locations throughout the country, allowing you to collect your board from one location at the start of your holiday and leave it at another one when you leave. Paddle excursions on rivers and islands during the summer season are also planned.

To find out more about paddleboarding in Croatia and renting a SUP check out www.rent-sup.com or contact Philippe at info@rent-sup.com