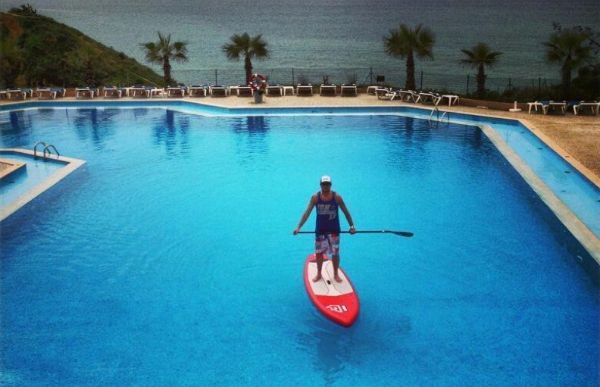 Getting to warmer weather when the weather gets cold can sometimes be a necessity – flying away for a sunshine filled weekend is really affordable, but with the developments in iSUP's you can take your SUP and avoid huge baggage charges.  UK Fanatic team rider, Jay 'SUP' Manning recently got fed up with cold toes and headed south to Portugal for the weekend to thaw out.  Taking his Fanatic Tourer with him, Jay tells us what he got up to;
The Algarve with an iSUP
"The Algarve in Portugal is a great place to escape to for winter Sun and quite beaches.  The Algarve has awesome rugged coastline which is perfect for a bit of SUP exploration.  Taking the board away was really easy, because it comes in a backpack, with a bit of extra space for a change of underwear, so you can take it as your only bag if need be.  If you are using the board everyday the charge for the bag is well worth it.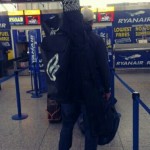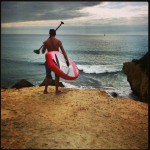 I used the board in flat water and waves when away, the 11′  x 34′ Fanatic tourer comes with a hard, removable single fin, so the board tracks well and also handled the waist high waves very well.
There was no need for roof racks on the hire car, therefore no extra or hidden costs – I would recommend anyone who wants to travel and SUP to get an iSUP!
The Tourer is also available in a 12′ version, which is even better for flat water cruising, and is not much larger in the backpack"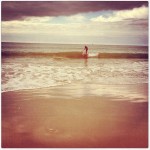 Traveling with an iSUP is very feasible option if you want to get a on the water and you are not sure if SUP's will be available to hire at your destination.  Three piece paddles are also available that make transporting your paddle that much easier.
Can't decide if an iSUP is the thing for you? – check out SUPboarders Inflatable vs. Hard board comparison feature.
Jay 'SUP' Manning is sponsored by Fanatic UK and has been living the paddle boarding dream for 5 years, loving every minute of it!