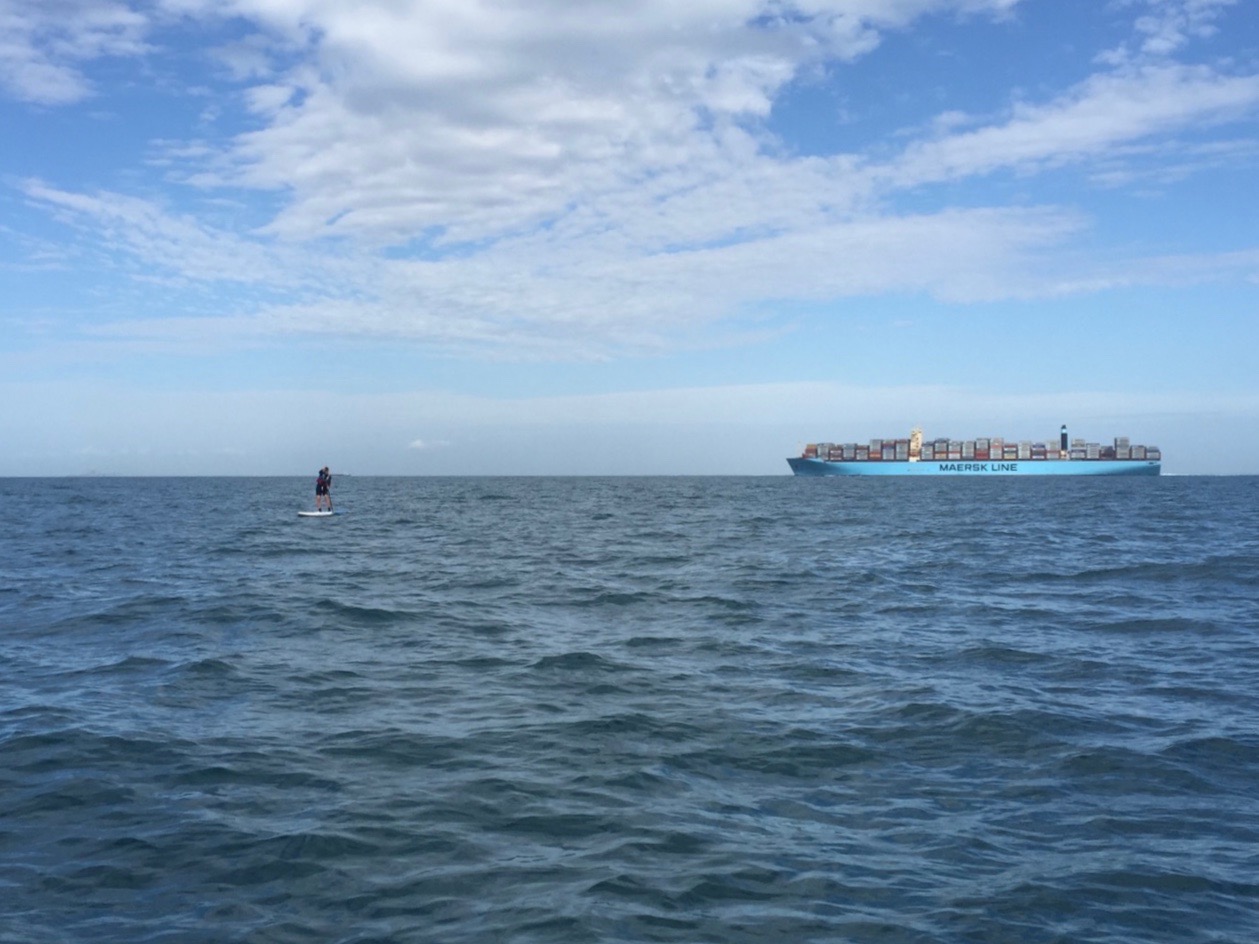 The first person to SUP the English Channel was Laird Hamilton in 2006. And the crossing has been completed several times since, either solo or as a team, and usually by paddlers with a lot of experience in open water. TJ Halbertsma decided to take on the busiest shipping lane in the world after paddling for less than one year and with little open water experience. Don't worry, he had some company! Here's TJ's account of his training in Hawaii, wind, waves, currents and heavily armed officials!;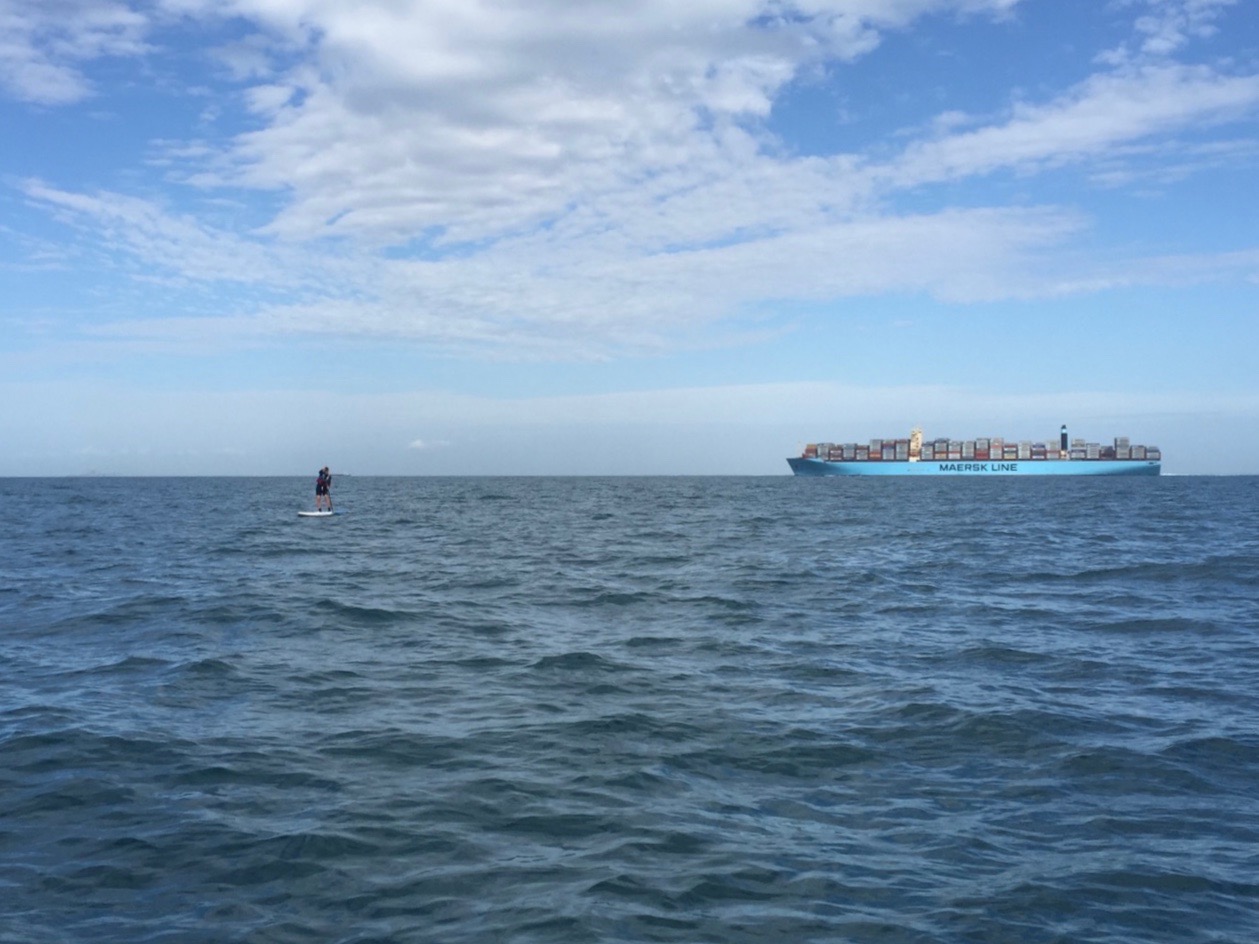 "Passeports, s'il vous plaît," hollered the machine gun-toting French coastguard from the deck of his boat, flanked by nine other stern, armed officials. I knew I had to bring my passport, but having my paper work checked as I bobbed in the middle of the English Channel? That came as a surprise.
We had just entered French waters and the coast guard was on high alert. Little did we know that Calais had just been inundated with refugees and no one was to enter or leave France without the right paperwork. Although my passport was perfectly valid, the coastguard didn't seem convinced they should let me continue my journey. Had I paddled this far for nothing?!
Fortunately, I was given the chance to explain what I was doing before they sent me back. "This is a paddle board. I'm trying to cross the English Channel… and I'm doing it for fun," I politely informed them. They seemed a bit confused and I wasn't sure whether it was my story or my French. After discussing the situation they must have concluded I was not a migrant and they let me continue my Channel Crossing. Oh, the relief – I had trained so hard to get to this point and my goal was now in reach.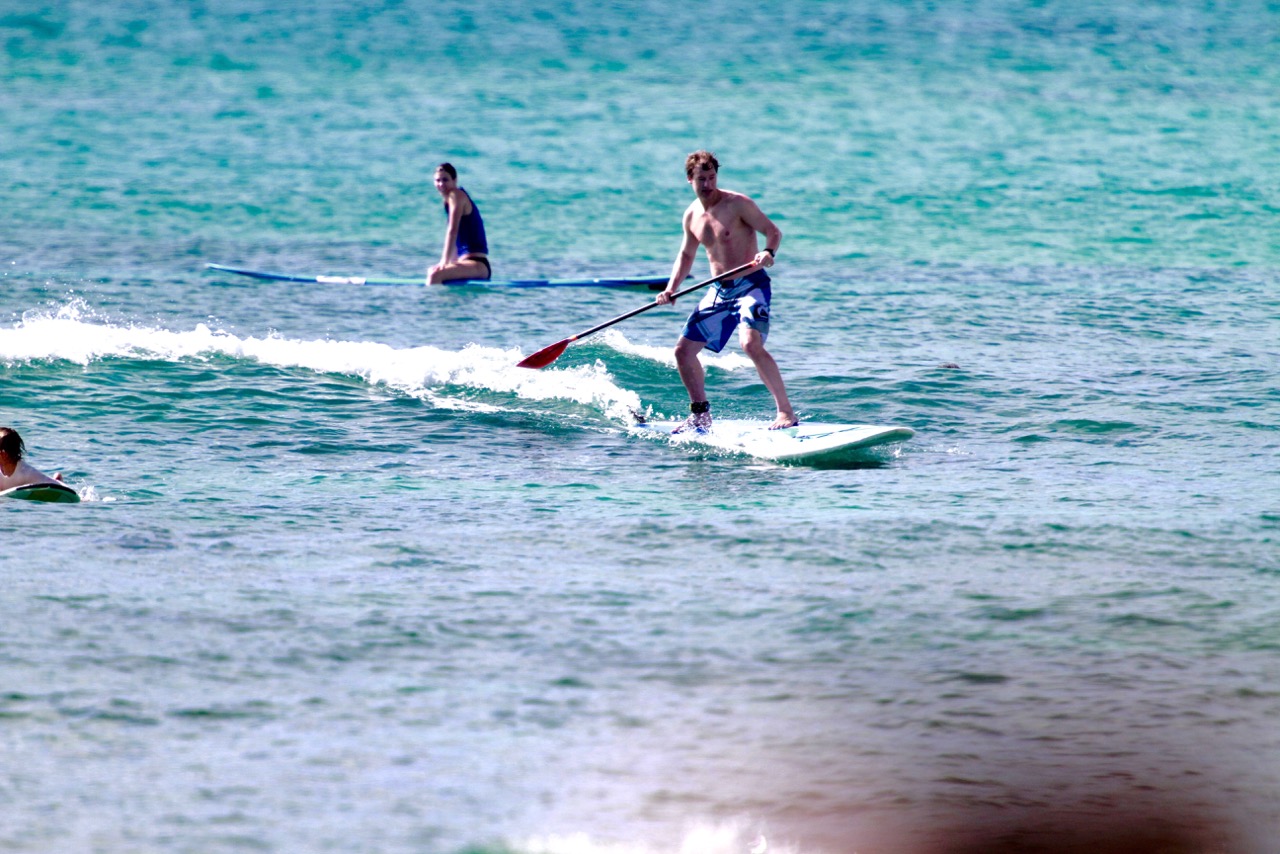 It all started a year earlier, in 2014. I was in Hawaii visiting my parents in law and we were talking about paddle boarding which I hadn't really picked up yet. Over dinner I heard about Laird Hamilton, a surfing legend and all-round waterman who was the first person to ever cross the English Channel on a SUP.
I was captivated by the idea and knew it warranted further exploration. I couldn't find much information on it and realised that very few people had followed in Laird's wake, which made it even more exciting. This was something that had to be done.
I had my first training session in January 2015 when I was in Laguna, California. I booked an instructor and once out at sea we focused on the basics – the stance, the balance and the strokes. After an hour I started to get the hang of it. The rhythm of the strokes, the freedom of the water, it really made me feel alive.
With dolphins leaping to my left and whales breaching 200 yards to my right, I was so overwhelmed that I immediately lost my balance and fell in.
But boy, the whole afternoon had been such a great experience – I was hooked.
Back in London, I reached out to Paul from Active 360 who organises SUP on the Thames. I signed up for their sessions a couple of times a week, did a course in San Pietro, Sardinia, over Easter and then wanted to really test my mettle by taking part in the 40tude SUP marathon that June.
The 26 miles from Shepperton to Putney would be about the same distance as the Channel, so if I could nail that, I would probably be able to do the crossing too. OK, so there wouldn't be cargo ships to negotiate, strong currents to navigate and buffeting cross winds to contend with, but surely this would be some indicator of my competence?
I did well in the event and felt strong throughout, which really boosted my confidence. By now my technique was pretty good. I had done plenty of core training in the gym and had been able to avoid injuries.
But there was one thing missing from the marathon that would make all the difference on the English Channel – waves. Thankfully, a month before my planned crossing I was back in Hawaii where I had plenty of swell to contend with on my SUP, which was great for getting my sea legs.
The last couple of training sessions I did in Hastings to get used to the water temperature. Hastings is not Hawaii and the water was pretty cold with strong winds of up to 20 knots. But after a while I noticed that falling in was actually a pretty efficient way to cool down. I also learned that taking a break on your board to eat and drink is not a good idea given the strong currents. You have to eat and drink while you paddle, and that takes some practice.
By now I was ready for the crossing. For safety reasons I had organized a support boat, captained by a guy named Will (from Full Throttle Boat Charters) who I had never met. He told me to be on standby the whole week of 3-7 August. On the Tuesday, I got the call to be in Rye the following morning at 6am. We were on!
When we met we didn't have time for a long introduction. It was now or never – Will explained that the currents would turn against us in a couple of hours so we had to get going. If we hadn't reached the shipping lane by mid-morning, I wouldn't be able to make it to France. So, off I went. Next stop France… hopefully.
Once on my board I found it pretty daunting to paddle out on to the sea with nothing in sight but open ocean. I was also told to not look back because the white cliffs of Dover will stay in sight forever and you'll get the feeling that you're not progressing. Of course, I did look back and, my god, it took hours before they finally disappeared.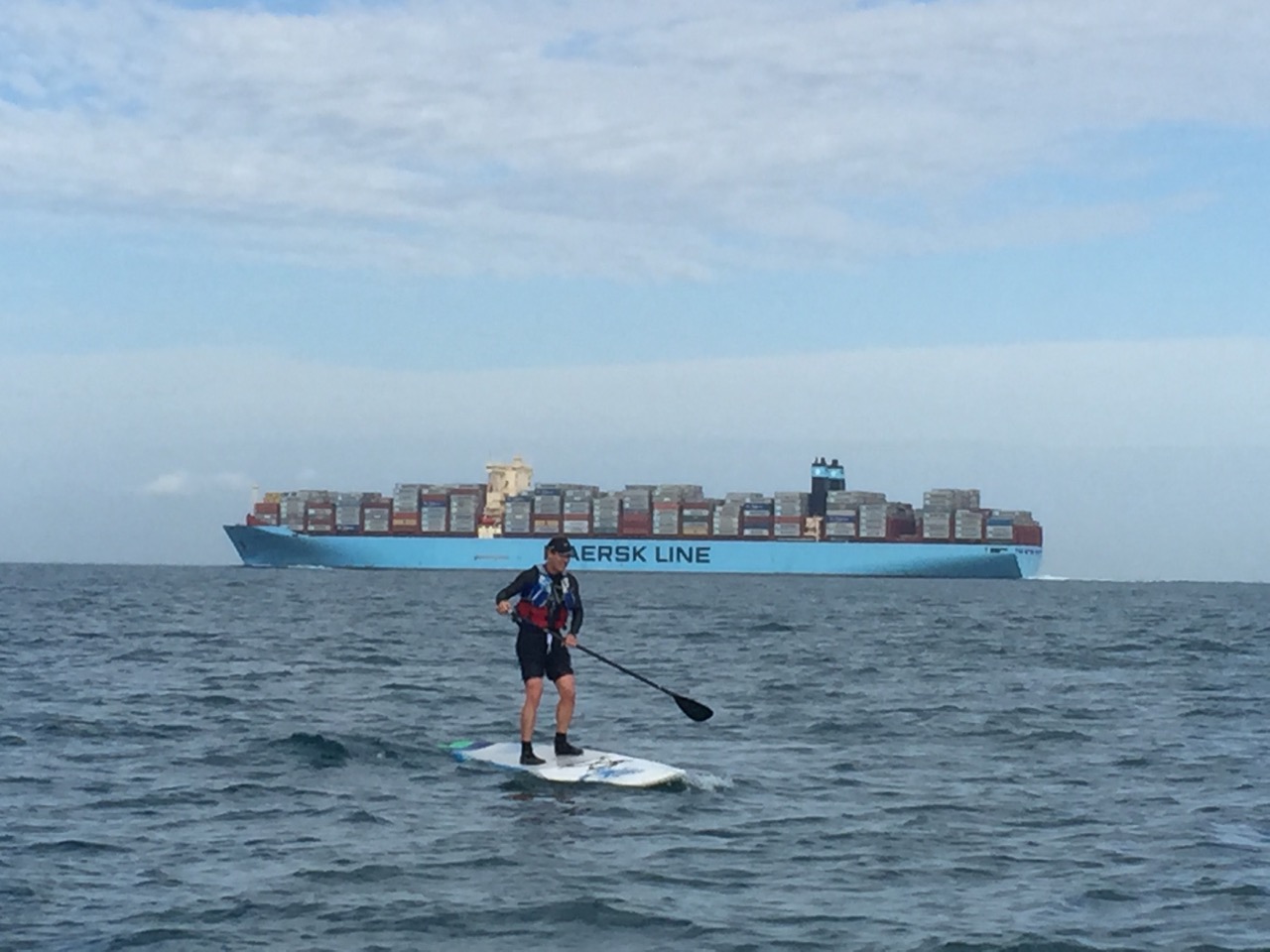 After four hours of very hard work I finally got to the shipping lane and was utterly spent. The closer you get to the world's busiest maritime motorway, the bigger the oil tankers become and the higher their waves get. This was the last thing I needed, as I was now feeling the strain of hours of hard paddling. But this is where my training in Hawaii came in very handy, I was able to handle the waves without falling off or having to kneel on my board. Currents had indeed picked up and the last hour had been absolutely gruelling.
Once I entered the shipping lane I had to get my board out of the water and get onto the support boat as you're not actually allowed to cross the shipping lane on a paddle board. To compensate for the 5km in the boat, you start in Rye rather than Dover so you still paddle the same distance. The moment the support boat got to the other side of the shipping lane, I could start paddling again. This is where the French waters start and the grilling from the coast guard began.
After they had decided to allow me to paddle on, they wished me well with a very friendly "bonne continuation." Unfortunately, Will was told to stay behind to have his boat searched. Obviously they didn't find any refugees on board but they didn't seem intent on letting him continue. I was now totally alone in the middle of the ocean. I crossed my fingers and paddled on.
After an hour I started to see sail boats and realised I was getting close. When the shore was clearly in sight, Will finally caught up with me and his cheers of encouragement came just at the right time.  I tried to take it all in and was able to start enjoying my crossing during the final stretch. And there it was – the coast of Normandy. It was in my reach.
When I finally got to the beach, I wasn't allowed to go ashore and we had to go straight back to England. But it didn't bother me, I had just crossed the channel in five hours and 45 minutes and could hardly believe it! I had counted on seven or eight hours, so this was well beyond expectations. This wasn't bad at all if you consider the world record is five hours and 9 minutes.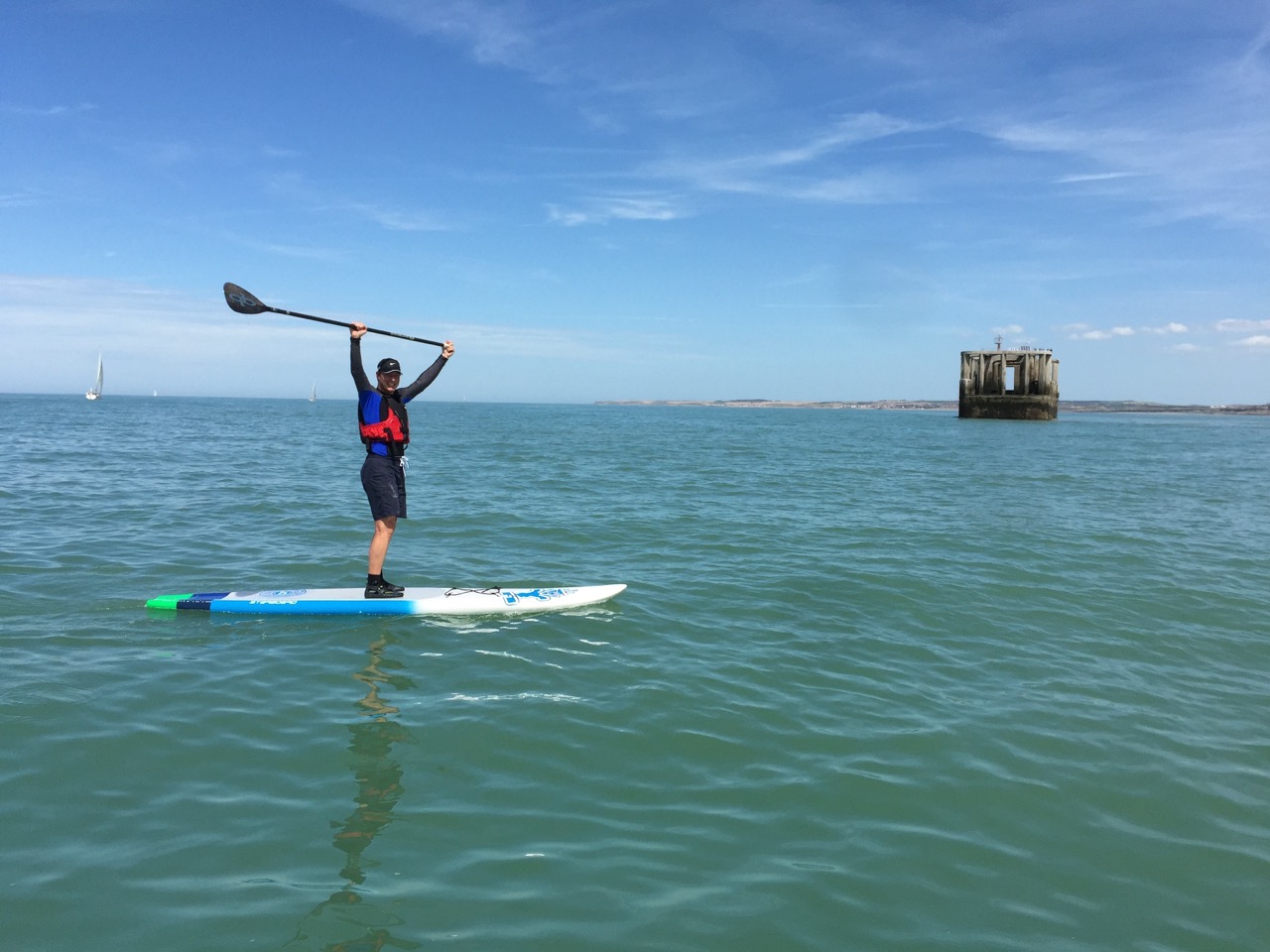 When I started to relax in the support boat on the way back, I was aching all over. Paddle boarding is a full body workout, after all. Back in Rye I was surprised to see a large number of people waiting for me in the harbour. When I was offloading my board one of the men asked me how far I had gone out. I explained that I had crossed the channel. Again he wanted to know how far I had got. "Well,"I said, "all the way to France." "I'm a paddle board instructor and that can't be done," he chirped. With a smile on my face I replied, "Young man, I just did!" Will had to chuckle.
Back in London that evening I took a hot shower and was glad that everything had gone according to plan. It had been a long day and to celebrate I opened a bottle of wine – French obviously – and I raised a glass to the coastguards who had been kind enough to let my dream become a reality. And what a journey it had been!
Words : TJ
Setting a personal challenge is a great way to advance in any activity, and SUP is no exception. But very few people have the ambition to take on such a big challenge in the way that TJ did after just one year on the water. Hats off to him for not only completing it but doing it in good time too, even with a passport check halfway! 
TJ completed his crossing on a Starboard Freeride XL (12'2″ x 32″) with a I had a Quickblade Kanaha Carbon 100 paddle. As well as organising a safety boat he used a PFD and leash on his crossing.
If you're about to push your paddling limits, get in touch and share your story. 
Images Full Throttle Boat Charters unless stated.