https://www.youtube.com/watch?v=IOMcTLOQrBA
With cracking swell all weekend and wall to wall sunshine the 2014 Causeway Coast Surf Festival in Northern Ireland sounded like a belter. Irish waterman Finn Mullen was there to soak up the atmosphere and smack some lips as well. Over to Finn for a round up of this fantastic event.
Sun, surf smiles and sounds were the ingredients for success at the 2014 Causeway Coast Surf Festival at West Strand beach, Portrush, Northern Ireland. With temperatures in the high teens, clear skies and an equally sunny vibe, Surfers, Bodyboarders and Stand Up Paddleboarders from all over the island battled it out for the amazing trophies hand crafted by local surfboard shaper and famous surf photographer Conn Osborne and the prestigious Port rush Open titles on offer.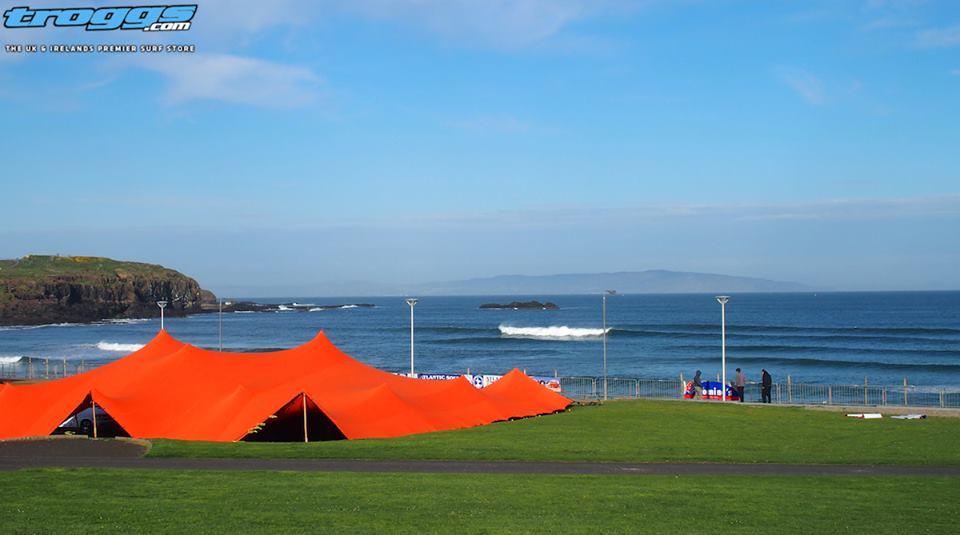 First heats in the crystal blue Atlantic waters were the SUP division which had the largest entry of the entire surf competition showing its fast growing popularity on the island. Showing his prowess early on was Starboard rider Ronan Oertzen, a former Irish Surfing Champion and recent passionate SUP convert, Ronan showed his trademark clinical surfing roots to advance to the semi finals and only narrowly miss out on a final placing. Also narrowly missing out was Dublin's Dave Owens who blitzed his heats only to come up short by a fraction of points against his hard charging team mate Paul Byrne in the semis. Other standouts were Owen Waters and local rippers Ollie Boyd and Tony Doherty who showed their knowledge of their home breaks to advance to the semis. When the scores were tallied though it was Tony with his smooth style and ability to pick off high scoring waves that made it to the final alongside Irish SUP racing Champion Peter Kosinski who booked his place with winning short board style moves and Finn Mullen who snagged a series of firsts in the closely fought semis and qualifying heats.
As the sun set and the DJ sets of the festival blasted out to the crowds on the boardwalk the scene looked much like a cold water California and competitors kicked back before heading to the festival's Shore Shots Surf Film screenings to psych up for the next day and Finals time. Dawn broke with no change in the wall to wall sun but larger surf to test the competitors. A thirty minute final was called to give everyone the best chance to make the most out of the sets and chunky left and rights rolling in on the high tide. After numerous beatings and some great paddling in the tricky conditions it was a Starboard 1, 2 of Finn Mullen first , Peter Kosinski second, local Tony Doherty third and Dublin's Paul Byrne fourth in the SUP division.
High flying current Irish Surfing Champion Gearoid McDaid took to the skies to win the Mens Surf division in one of the most explosive displays of aerial surfing ever seen in competition on the North Coast. Local legends John McCurry and Martin 'TK' Kelly took out the Longboard and Bodyboard divisions while Rossnowlagh Surf Club members Amy-May Garvey and Jack Scott took respective trophies in the Women's and Youth categories. 2 days of non stop fun, sun and surf all that was left was a huge thanks to Ger and Kirstie McAuley, Stevie Burns and Andrew Gaynor for all their hard work to make the event such a huge success and SUP addict and broadcaster Alan Simpson for the hilarious and potentially libellous event commentary ! 🙂
Words: Finn MullenPhotos :
Bosco McAuley
Video By : SUPboarder Team rider Peter Kosinski. Visit Peter's blog
here.