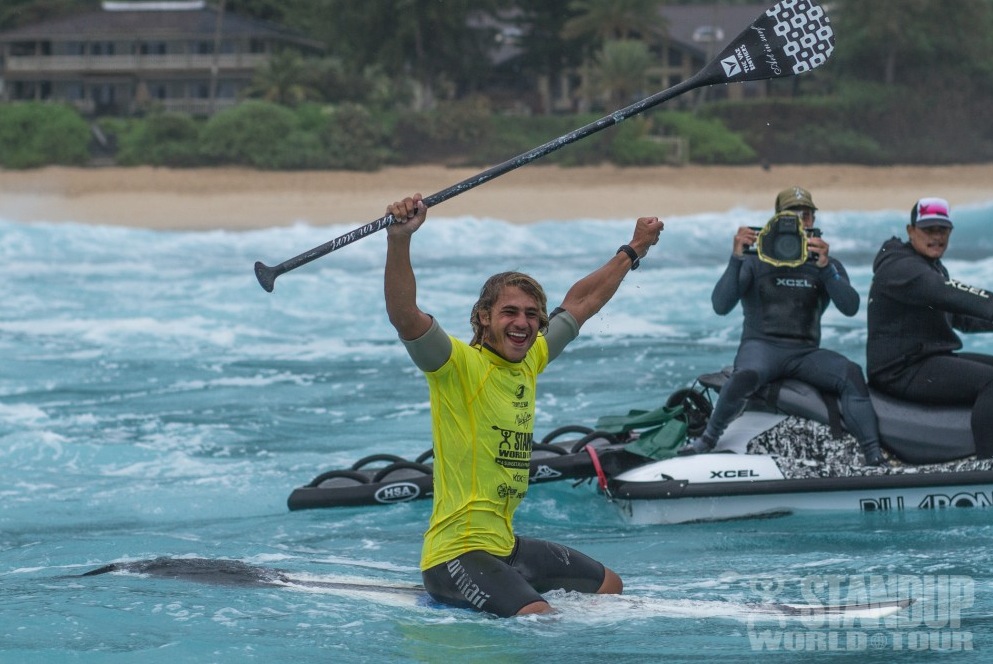 Caio Vaz Takes Sunset
Waterman league press release: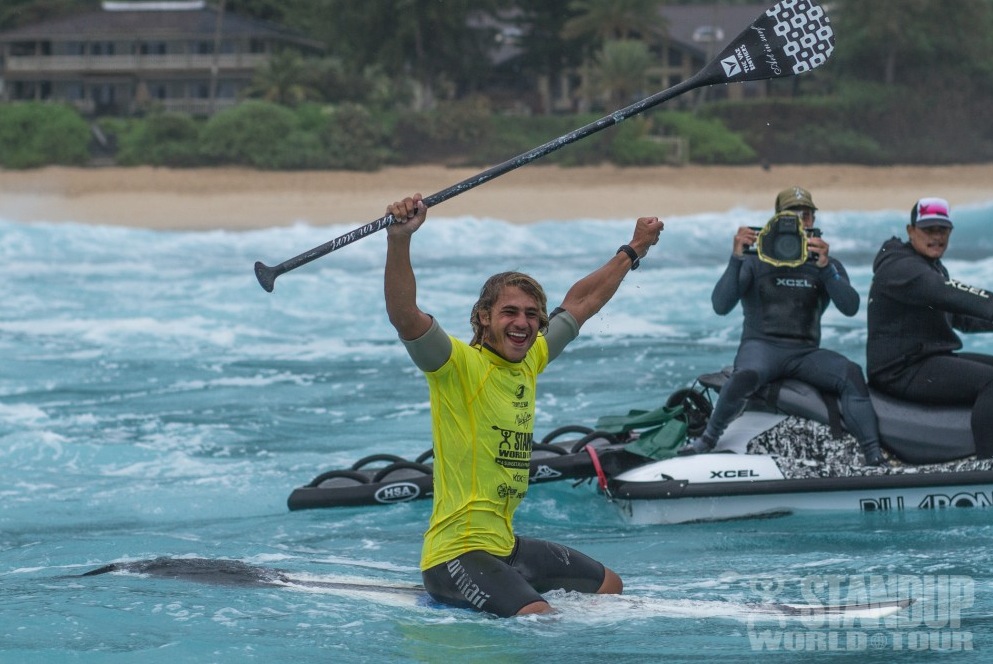 SUNSET BEACH, HAWAII – The first stop of the 2014 Stand Up World Tour saw the fifth anniversary of one of the tour's marquee events – the Sunset Beach Pro.  This iconic wave is known for it's power and difficulty – every wave offers up it's own unique, distinct challenge.  Local knowledge proves to be a huge asset as evidenced by the abundance of Hawaiian athletes in the main event draw.
Friday, February 14 saw four rounds of four-man heats battling it out in conditions that could best be described as "challenging".  The call to hold the finish the contest on day seven of a nine-day holding period was delayed several times this morning to ensure it was the right decision. Said contest director Tristan Boxford:
"After Thursday brought strong onshore winds, the direction did shift around to NE for Friday morning, but the question was would it be clean enough to run. The swell was to be biggest on Friday, so we took our time to deliberate and watch the conditions until we finally called it on at 8.30 am for a 10am start. At 7am, there was little or no scoring potential, but by 8am, the odd good wave was starting to show and the conditions were cleaning up. So we decided to pull the trigger and make the most of the bigger swell."
Boxford, along with a panel of judges and athletes, decided that the 4-6 swell and cross-shore NE wind would be sufficient to hold the contest.  That decision proved to be the correct one as big, open-faced sets with high scores from the judges came through all day.
The contest got underway at 10 A.M Hawaii Standard Time with the 3rd round.  The initial heats saw several upsets with tour staples such as Sean Poynter, Chuck Patterson, Justin Holland, and Kody Kerbox all missing the top 2 in their respective heats. The quarter final was mostly stacked with athletes from Australia, Tahiti, and Hawaii.  North Shore locals Kala Alexander, Robin Johnston, Ikaika Kalama, and Mo Freitas all proved that knowing the intricacies of Sunset is a definite advantage.  Kekoa Auwae from Oahu's westside and Maui's Kai Lenny and Zane Schweitzer  were other Hawaii surfers also making the quarterfinal round.
The first semifinal heat had defending champion Kai Lenny trailing in fourth for the majority of the heat.  With less than 5 minutes left  a large set came through and gave Kai the wave he was looking for, earning an 8.17 for the wave and 11.1 for the heat to put him in a second place tie with Tahitian Poenaiki Raioha.
By having the highest individual wave score, Lenny was able to advance to the final and knock Raioha out of the contest. The final round was a battle between Caio Vaz (BRA), Keahi De Aboitz (AUS), Kai Lenny (HAW), and Zane Schweitzer (HAW).  Some tense moments came about when Schweitzer's leash broke and was left stranded as the board was sent toward shore.  Through the help of his friend and Starboard teammate Sean Poynter acting as caddy, Schweitzer was back on his feet and into the lineup within a few minutes.
At the end of the 30 minute heat it was Caio Vaz with a combined wave score of 14.17 who took the finals and the title of 2014 Sunset Beach Pro champion. "I can't describe it!" Said Caio moments after the fanfare died down on the podium for his first Stand Up World Tour win.  Last year Caio was runner-up three times, even leading the tour in points rankings at one point – but a victory eluded him.  He had a simple strategy in the final: "I saw others go big, and I realized that I should go big.  So I went.  It's Barbecue time now!"
The next stop on the 2014 Stand Up World Tour is the Brazil Pro starting March 29.  Stay tuned for information and updates at watermanleague.com.
The final results for the men are:
1  Caio Vaz  BRA  (Art in Surf)
2  Kai Lenny  HI  (Naish)
3  Zane Schweitzer  HI (Starboard)
4  Keahi de Aboitiz  AUS  (JP Australia)
5  Poenaiki Raioha  PYF  (F-One)
6  Robin Johnston  HI  (Ku Hoe)
7  Leco Salazar  BRA
7  Kekoa Auwae  HI
Men's Trials Results:
1  Bernd Roediger  HI
2  James Casey  AUS
3  Monnier Manutea  PYF  (F-One)
4  Fisher Grant  US
5  Toby Cracknell  AUS  (Naish)
6  Kainoa Texeira  BRA
7  Kieran Grant  US
8  Anthony Vela  US
Na Kama Kai Under-16:
U16
1  Ridge Lenny
2  Kainoa Texeira
3  Keola Auwae
4  Riggs Napoleon
5  Micah DeSoto
6  Austin Kalama
7  Lara Claydon
Age 7-13
1  Zane Saenz  HI
2  Sacha Kauhane  HI
3  Marvin Freitas
4  Tiki Willis
5  Kalani DelaRose
6  Kyler Kerbox
LIVE FEED
Compete heat draws here.
Wednesday 12th February
Tuesday 11th February
2014 Turtle Bay Women's Pro – Final Day
Nicole Pacelli is your 2014 Turtle Bay Women's Pro Champion!
Waterman league press release:
Sunshine, good waves, and a deep field of the world's finest female SUP surfers were on hand today as we entered the final day of the 2014 Turtle Bay Women's Pro at Turtle Bay Resort on the north shore of Oahu in Hawaii.  Light trade winds and an increasing swell created ideal conditions for the first event on the 2014 Stand Up World Tour.
18 women competed through four rounds of intensly competitive action, as the level of performance in the women's fleet has gone through the roof here in 2014. In the end it was Brazillian Nicole Pacelli who won the final heat a full 5 points ahead of runner-up Candice Appleby to win back-to-back titles at Turtle Bay.
"I'm so happy!", said Pacelli after getting out of the water and realizing she had won the final.  "The waves are good, but I don't know – sometimes a big set came and everyone was washed out.  So I'm happy to get two good waves! It was perfect.  I caught my best wave of the contest.  All the girls are ripping!"
With the important first win of the season underway, Pacelli has her sights set on the next stop of the Women's Stand Up World Tour in her home country of Brazil.
On competing in front of a home crowd she says, "I think sometimes in my home country I have more pressure because I'm Brazillian and everybody is cheering for me when I'm in the water.  But it's nice.  I like to surf there.  I think it's going to be one of the best stops".
The next stop on the 2014 Women's Stand Up World Tour is the Brazil Pro Grand Slam, starting on March 29.
Next up for the Stand Up World Tour is the Sunset Beach Pro.  Conditions are looking good to get back underway with the contest on Wednesday, February 12. However, as always we will make the final call in the morning at 7AM HST. Stay tuned to the event page to find out and to tune into the webcast.
Turtle Bay Women's Results:
1  Nicole Pacelli  BRA
2  Candice Appleby  US
3  Sophia Tiare Bartlow  US
4  Aline Adisaka  BRA
5  Caroline Angibaud  FRA
5  Fiona Wylde  US
7  Izzy Gomez  US  (Starboard)
7  Vanina Walsh  HI (Starboard)
For complete heat results please click here.
Sophia Tiare Bartlow – "The Warrior"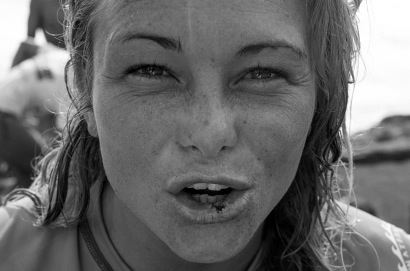 The sign of a true competitor is someone who can persist through adversity and still come through on top.  Today we saw that in Sophia Tiare Bartlow, who entered her first professional stand up paddle event.
In the semifinal heat, Sophia had a rough encounter with her board that smacked her in the face, cutting her lip open with blood gushing out.  The water patrol came to her rescue, but the heat was already winding down and she had her eyes firmly set on the final. So she stayed in the water and caught a couple key last-minute waves, which paid off with a victorious heat.
As an unsponsored surfer who overcame serious all odds to finish third in the event, it is safe to say that Sophia is a bona fide competitor and one to watch throughout the 2014 season.
Sunset Beach Pro
The men's contest at world-famous Sunset Beach has two days of competition left.  Check back after 7AM HST to see if the contest is running.  The swell and wind forecast are looking good, so the conditions could be right for an epic day of competition.  Stay tuned to our event page for the morning call.
Trials