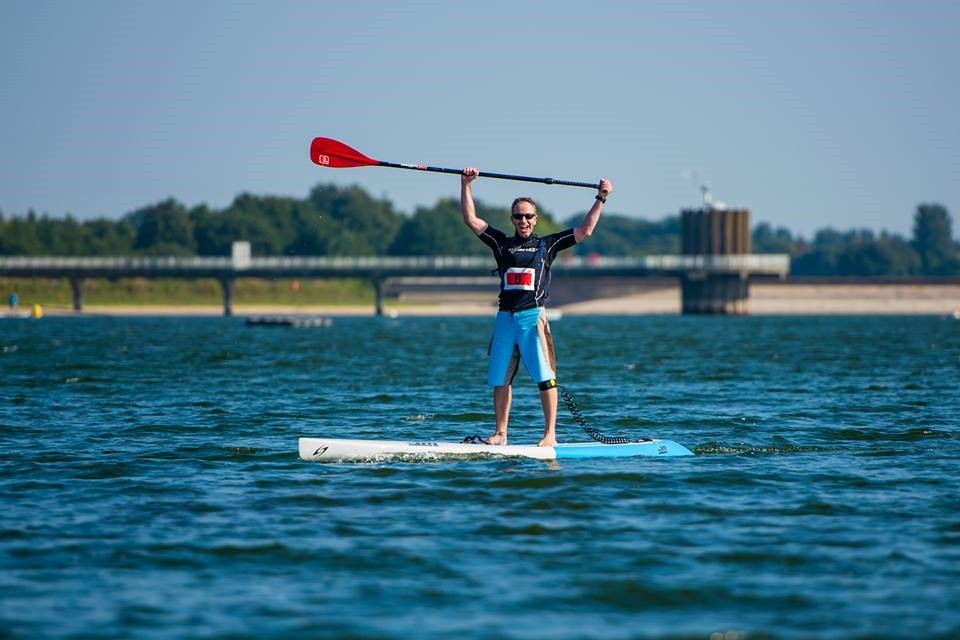 The weather, venue and competitors all came together for an amazing day of SUP on Saturday 28th September. Alton Water Watersports Centre provided the perfect setting for the day which included distance races, sprints and demos. A few days earlier both Belinda and Jon Smith of SuffolkSUP were busy completing the unique trophies and medals to mark the first SUP race day to be held in Suffolk still unsure of actual numbers turning up for the event! However with over 20 riders entered online, the day was shaping up to be a classic. Starting at 9am for registration, local paddlers Helena Richards and Tracey Walker worked hard to ensure a smooth sign up process for the 10 mile, 4 mile and 2 mile races. After the briefing at 10am all paddlers were on the water ready for the mass start at 10.30am. To add to the spectacle for those watching, all 3 distance races were started at the same time. 30 paddlers finally lined up for the start.
Official starter Ian Curtis from Martham NorfolkSUP set off the race and an early lead was established by Starboard / RED rider Scott Warren closely followed by Colin Elston, Phil May and Jon Smith. Each 2 mile lap was a great mixture of downwinders with mini 'waves', choppy crosswind sections and full on head winds.
First over the line in the 2mile / 1 lap race was Sarah Thornely with a very impressive performance. Helena Richards from SuffolkSUP managed to race across the line, then leave to get to a friends wedding showing great commitment to SUP! Mark Middleton and Andrea Moss had probably travelled the furthest for the race. Usually based in Lancelin on Australia's West Coast they had managed to fit in the event during a brief visit home. Thank you for your great support.
Battling on for a second lap the 4 mile racers had to endure an ever strengthening wind and choppier conditions. First home was Phil May on his 14 ft board. Congratulations also must go to the first 3 ladies home. Club riders Kirsty Clark, Sarah Smith and Linda Olsson all completed the tough course and took podium positions. Wilma Zwikker of SuffolkSUP also completed her first distance race of 4 miles. Ali Pereira finished 1st in the 14' class, an excellent result.
With three further laps to go the 10 mile racers (5 laps) got stuck in for the long haul and there were some close battles within the ranks especially between SuffolkSUP's Belinda Smith and local rider David Maile. After just over 2 hours on the water Scott Warren crossed the line to win the 10 Mile Elite race. With no draft trains emerging throughout the race all finishers had battled hard over the full distance and congratulations go out to all. Colin Elston finished an excellent second with Jon Smith in third. Stacey Smithson made an excellent effort on her 12'6" board to become the first female across the finish line. Belinda Smith, Anni Ridsdill-Smith and Juicy Ju Sup all secured good finishing positions and times in their respective race categories.
Thank you to Tracey Walker and Rachel and Craig Clarke for their help with the time keeping and scoring during each race.
After a great lunch provided by the 'Servery' at Alton Water the Juniors were next onto the water. The strong wind made the start difficult for the younger riders, although they battled hard around the buoys with Guy Ridsdill-Smith first back to the shore.
Most riders then signed up for the Sprints which took the form of two heats and a final around a fast 500m course with buoy turns. All riders rode the RRD Cruiser 12' boards provided by Dave White of RRD. The level playing field on the equipment meant that some close battles took place around the buoys much to the delight of those on the beach watching!
The day was rounded off with an awards ceremony with presentations of trophies, medals and flower lei's for successful racers. The awards had been kindly sponsored by Nalu Beads and each unique trophy featured a bead from their fantastic collection.
Finally the raffle in aid of Prostate Cancer UK and Breast Cancer Campaign took place. SuffolkSUP would like to say a huge thank you to all of our sponsors for their kind donations of prizes.
Belinda and Jon Smith and all the SuffolkSUP club members would like to say a big thank you to everyone involved in the day. We have enjoyed reading the Facebook comments and viewing all the various photographs that were taken of the event. Special thanks must go to Dave White for his RRD boards and superb photos (Facebook davewhitek63), Nalu Beads for their kind bead donations (www.nalubeads.co.uk)SuffolkSUP and Mike Palmer for his excellent photos of the morning action (www.mikepalmerphotography.co.uk).
The day was a great success and we are already talking about planning a SUPtember event for next year so keep your diaries free!
Finally, the following email received the day after the race from one of the competitor's sums up the spirit of the event –
"Hi Guys, I would like to thank you for an amazing day! This was my first race, in fact my first time meeting other sup'ers apart from the occasional hello to a passing paddler on the river. I was warmly greeted and felt at ease as soon as I stepped out of the truck and everyone I met made me feel at home. The atmosphere and attitude of competitors and spectators alike was a real credit to all the hard work I know it would have taken to successfully stage such a great event. My wife and daughter had a wonderful time watching the races and cheering everyone on! Many thanks again for a truly enjoyable day!"
Full results and times from the day can be found at www.suffolksup.com
Mahalo
Jon and Belinda Smith
SuffolkSUP
www.suffolksup.com