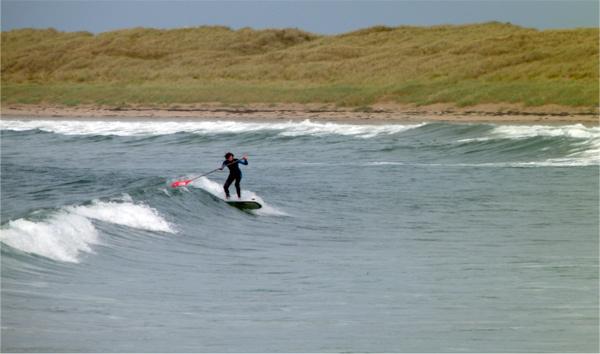 Ollie Laddiman / The one to watch
The next up and coming SUP competition star to be interviewed by SUPboarder in the Young Guns Features, is Ollie Laddiman. Ollie, is relatively new to SUP however he's already caught the competive SUP bug, so I'm sure we'll be seeing more of him at the youth SUP events in 2013. And maybe he'll be one to look out for on the main podiums in the future?
Ollie first discovered SUP whilst at the Tiree Wave Classic in 2009 with his dad. He always thought SUP looked cool however it wasn't until a few years later that he first had a go, and found out exactly how much fun it really was! Ollie loved it immediately and has been hooked ever since enjoying both SUP surfing and racing. Ollie has some great local SUP surf spots nearby including Rhosneigr, Broad, Tyn Tywin and Hells Mouth so doesn't have to travel far to find a good wave.
SUPboarder caught up with Ollie to find out more about him and his SUP plans for 2013;
SB/Where are you from?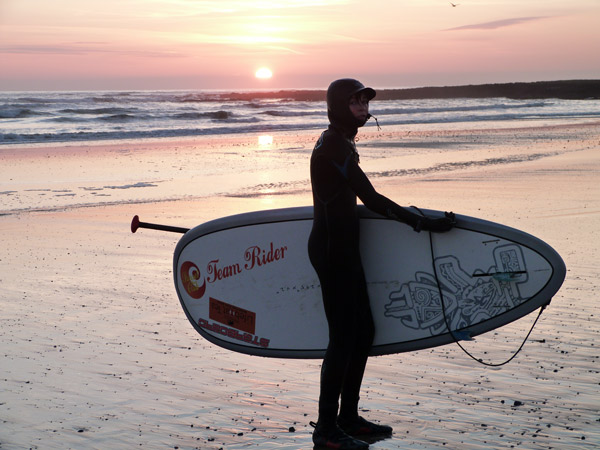 Ollie/I live on Anglesey, N.Wales
SB/How old are you?
Ollie/13
SB/What SUP disciplines do you enjoy most and will you be competing in both race and surf SUP in 2013?
Ollie/My favourite way of SUPing is to surf, but I do race as well so I'll be competing in both race and surf SUP.
SB/How long have you been paddleboarding?
Ollie/I have been SUPing for about 18 months.
SB/Where is your favourite SUP spot?
Ollie/Locally, Broad at Rhosneigr. On a good day it is an easy, fun wave. But my favourite spot is Balevullin on Tiree.
SB/What's the SUP scene like on Anglesey?
Ollie/It's small but growing all the locals are very friendly and we nearly all know each other
SB/Why should Wales be on the SUP map?
Ollie/Because it has amazing places and stunning views
SB/Do you have any sponsors yet?
Ollie/Unfortunately no (not yet!)
SB/Do you have a chosen paddle height/blade size?
Ollie/Not really. I currently use a paddle which is about 6 inch above my head.
SB/What SUP kit are you using at present?
Ollie/I use a Starboard P.O.D at the moment, but I've just got a new Fanatic 8`0 Prowave, so I am waiting for the swell to arrive to put it through it's paces.
SB/Goofy or regular?
Ollie/Regular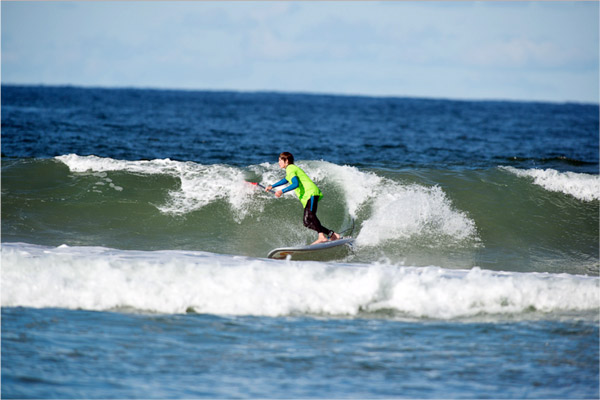 SB/What was your highlight of 2012?
Ollie/The highlight of last year was entering the BSUPA Watergate event last autumn, where I met allot of people who have inspired me to improve this year.
COMPETITION

SB/Ollie, you're obviously enjoying the competition side of SUP. Have you always been competitive?
Ollie/Yeah I have always been quite competitive. Me, Dad and Matt (Dad's friend) went down to Mumbles Gower Wave Fest because we were new to the sport, and we wanted to know what it was about.
SB/In 2012 you attended some races at your local SUP shop/club. Tell us abit more about it.
Ollie/The shop is called Sunset Club which is in Rhos-on-sea. Gary the owner has been organising the events. The next race is on Padarn lake in Snowdonia and there are other races which will be held around N.Wales.
SB/What was your first ever competition?
Ollie/My first event was in S.Wales Gower it was at the Mumbles Gower ocean fest, I was 12. I entered both the surf and wave competition, It was quite challenging but I enjoyed the competition scene.
SB/You mentioned that the BSUPA Watergate event was your highlight of 2012. Why was that and how did you get on?
Ollie/Because it was my biggest event yet and i was very exited. I got second in the comp behind Aaron Rowe. I will defiantly be entering Watergate event again.
SB/Have you done any events yet in 2013? And what other events are you planning to attend?
Ollie/No I have not entered any competitions yet this year, but I am planning to enter the local Dragon SUP Race Series, and any wave events I hear about, and can realistically attend.
SB/Some of the team members representing Team GB at the recent ISA World SUP Championships in Peru were from S.Wales. Would you like to represent your country in the SUP worlds one day?
Ollie/Since I got into sup surfing and got alright at it I have wanted to be a world sup champion and I would definitely want to represent my country in the sup world.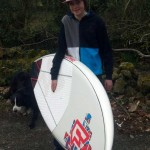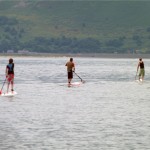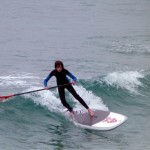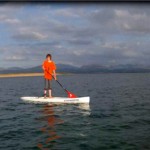 OLLIE'S SUP WORLD
SB/How often do you manage to get out on the water?
Ollie/I try to get out as often as possible but it obviously matters on when waves without too much wind come through. This is North Wales after all!
SB/What do you do when you can't SUP? Do you do any other watersports?
Ollie/I am learning to windsurf and I am a beginner on a surf board. I skateboard when I can't get to the beach.
SB/Have you SUP'd abroad anywhere? If so where?
Ollie/Scotland and Cornwall…ha ha! But me and dad might go to Brittany, Le Torche sometime soon. (I really want to go to the west coast of Ireland as well)
SB/Where (in the world) would you like to SUP the most?
Ollie/Definitely Hawaii.
SB/Who do you look up to in the world of SUP (in the UK and worldwide)?
Ollie/Paddling with Arron Rowe at Watergate inspired me to get better at Suping, and there is Kai Lenny, Laird Hamilton, John Hibbard and obviously Dad!
SB/What would be your dream SUP board and why?
Ollie/It would be a Starboard 7`7 pro carbon because it is small, light, looks cool and there would be less drag after a wipe out.
SB/Why would you tell another 13 year old to get into SUP?
Ollie/So when I go SUPing I can talk to someone my own age rather than all my dads friends!
SB/Considering you've only been on a SUP for 18 months you've already achieved a lot. What are your hopes for 2013?
Ollie/To be able to turn harder, go left better, enter more competitions and get good results.
SB/Is there anything else about Ollie Laddiman that you think other SUPboarders should know?!
Ollie/That one day I will conquer the SUP world!!!
Thanks Ollie – We hope you get out on your new board soon (between the snow showers!) And we look forward to following your surf and race progress in 2013. Hopefully this year we'll see more youths getting into SUP so you wont have to just go out on the water with your dad!